Kevin Herrera is an R&D engineer in a division of Johnson & Johnson called the Cardiovascular and Specialty Solutions Group, which mainly focuses on electrophysiology, but has also grown to support neurovascular and ENT devices, as well. The team works to prove the feasibility of a device or concept through rapid iteration, and one of their main focuses is to find a way to pack as much technology as possible into a medical device through miniaturization.
Kevin and his team needed a solution that could print very tight tolerances for product design and validation, and B9Creations was able to deliver the high-resolution parts needed that a multitude of other 3D printers couldn't achieve, enabling the team's product development to move forward and providing a solution for low-volume, end-use production runs.
"I had a 4 mm x 2 mm x 2 mm part that is representative of a component Johnson & Johnson uses in a catheter. I sent it to several companies, and all of them told me they couldn't get it to print – either the machine failed to print the part with its critical features or failed to print at all. B9Creations, on the other hand, produced AND shipped it to me the next day. Now we have multiple commercial and custom B9 Core Series 3D printers in-house."

Magnified 2,081%
A Platform that Delivers: True Production Repeatability & Ultra-Precise at Scale
Validated using optical metrology protocols, a sample of 150+ B9Creations printers equipped with the latest improvements produced parts with dimensional tolerances within ±50 µm or ±.002". This means that across an entire fleet of printers, the dimensional variation between the digital CAD file and the 3D printed part was equivalent to the size of one human cell. At these tolerance levels, B9Creations' 3D printers exceed the tolerances of traditional and precision manufacturing equipment, opening the door to full-scale production in the additive manufacturing space, an industry promise that until now, has remained unfulfilled.

With the B9 Core Series, the Cardiovascular and Specialty Solutions Group is now not only meeting tight tolerance standards, but the team has drastically sped up their iteration process, as well.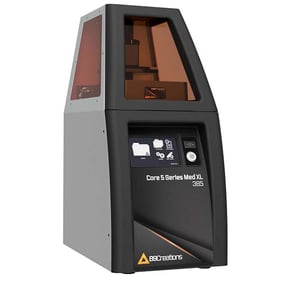 "Medical devices keep getting smaller, and you sold us when you printed a part smaller than 4 mm with tiny tubes and holes throughout. Plus, with the B9 Core Series, our average print time is 1 hour versus 5 hours on our other 3D printer – if it can print the part at all. With that faster cycle time, we're getting 10-part iterations instead of one. Nobody is faster, easier to use, or can print parts like this."

B9Creations' Customized Solutions
B9Creations' custom technology division, called B9[x], where "X" is the variable the customer defines, focuses solely on meeting industry- and customer-specific needs with custom solutions – from hardware, software, and materials to services and Lean, regulatory, and additive manufacturing expertise.
Johnson & Johnson's R&D team leveraged B9Creations' commercial 3D printer platforms to achieve microscale components, like the 4 mm x 2 mm x 2 mm catheter component, but then, came to B9Creations seeking a custom solution they couldn't find anywhere else.
"We needed a flexible 3D printing material to produce a critical fixture. It was supposed to be made of pure Teflon, because of its bonding capabilities, which allow for other materials to avoid sticking to it. However, pure Teflon is pricey and some of the part's features were internal, so 3D printing was the most practical manufacturing method."
Earlier this year, B9Creations released Resilient - Silicone, a silicone-like 3D printing resin, and Kevin's team was the first to receive samples.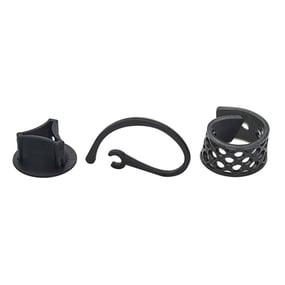 "Silicone is fairly similar to Teflon in the sense of its non-stick abilities. B9Creations shipped us a few samples printed in their Resilient – Silicone resin that we tested with our epoxies to see what stuck and whether it would work for our application. We found that this material was a perfect fit for creating our molds – but we ran into hardware limitations with our B9 Core 530. Because the resin is so viscous, we found out that our printer would need a stronger stepper motor, like B9Creations' Core 5 Series XL 3D printer, which was launched with the Resilient – Silicone resin."
B9Creations then developed a customized hardware platform for Kevin's team to enable production.
"We sent our B9 Core 530 back to B9Creations' factory, and they replaced the motor – once we got it back, it printed the material perfectly! This has really opened up our design space and saved us a ton of money because we're not using pure Teflon to rapidly prototype – which we did in the past, and it was extremely expensive. Multiple iterations in an expensive material is just not feasible, and you don't want to spend all that money on a machined component or a molded part. Now, we're using 3D printing to rapidly iterate first, so we're able to do early studies with inexpensive, 3D printed components, and then move into prototyping."
B9Creations' B9[x] Division has Delivered:
Private-labeled, regulatory-compliant, turnkey additive manufacturing solutions
Private-labeled, application-specific print preparation, monitoring, and management software
Custom material settings development software
Custom materials & settings
Custom printers with specified tolerances, resolution, and build envelopes
Global support strategies and deployment
Lean manufacturing and AM expertise to scale production
Explore Similar Content
Blog Post: How Additive Manufacturing is Revolutionizing Medical Device Design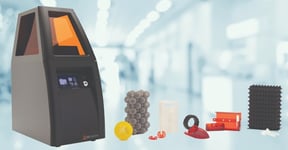 Webinar: Discussion on Microscale Medical 3D Printing and Customization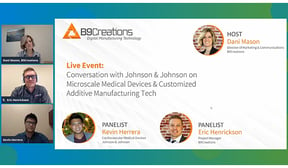 Webinar: A Conversation With the World's Biggest Medical Device Brands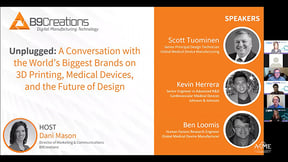 eBook: Implementing 3D Printing in a Medical Environment