B9Creations Software Technology
Additive manufacturing solutions that power your business and change our world.
NOW LAUNCHED!
FAST

™

TECHNOLOGY POWERED BY B9Create
Our next-generation FAST™ Technology powered by B9Create software will optimize your print processes like never before - with fewer supports, better surface finish, and painless post processing.
With our FAST™ Technology, you'll transform the effective resolution on your printer.
Printer
B9 Core 530
B9 Core 550
B9 Core Med 500
Resolution
30

μm

50

μm

53.7

μm

Effective Resolution with FAST

™

Technology
<15

μm

<25

μm

<25

μm
Printer
B9 Core 5 Series XL
B9 Core 5 Series Med XL
Resolution
–
–
Effective Resolution with FAST

™

Technology
<25

μm

<25

μm
Leverage our Workflow Mode that intelligently lays out, orients, and auto-supports your parts in three clicks or drop into Design Mode to adjust a breadth of parameters to fine-tune results.
Special Features:
Equipped with FAST™ technology
Advanced supports and foundations, including mirroring supports and reinforcement bars
Auto support templates
Slices in minutes
Highlighted unsupported area indicator
Robust print analytics and material print usage estimates
Sectioning tool
Build your own part library
Watch a demo of our software here.
We want to enable all of customers' success. While our FAST

™

Technology Powered by B9Create is included with all printers purchased after July 6, 2020, if you've purchased a printer before then, we want to give you the opportunity to upgrade your technology.
Upgrade your equipment to as state-of-the-art as when you first hit print.

Order FAST Technology Powered by B9Create!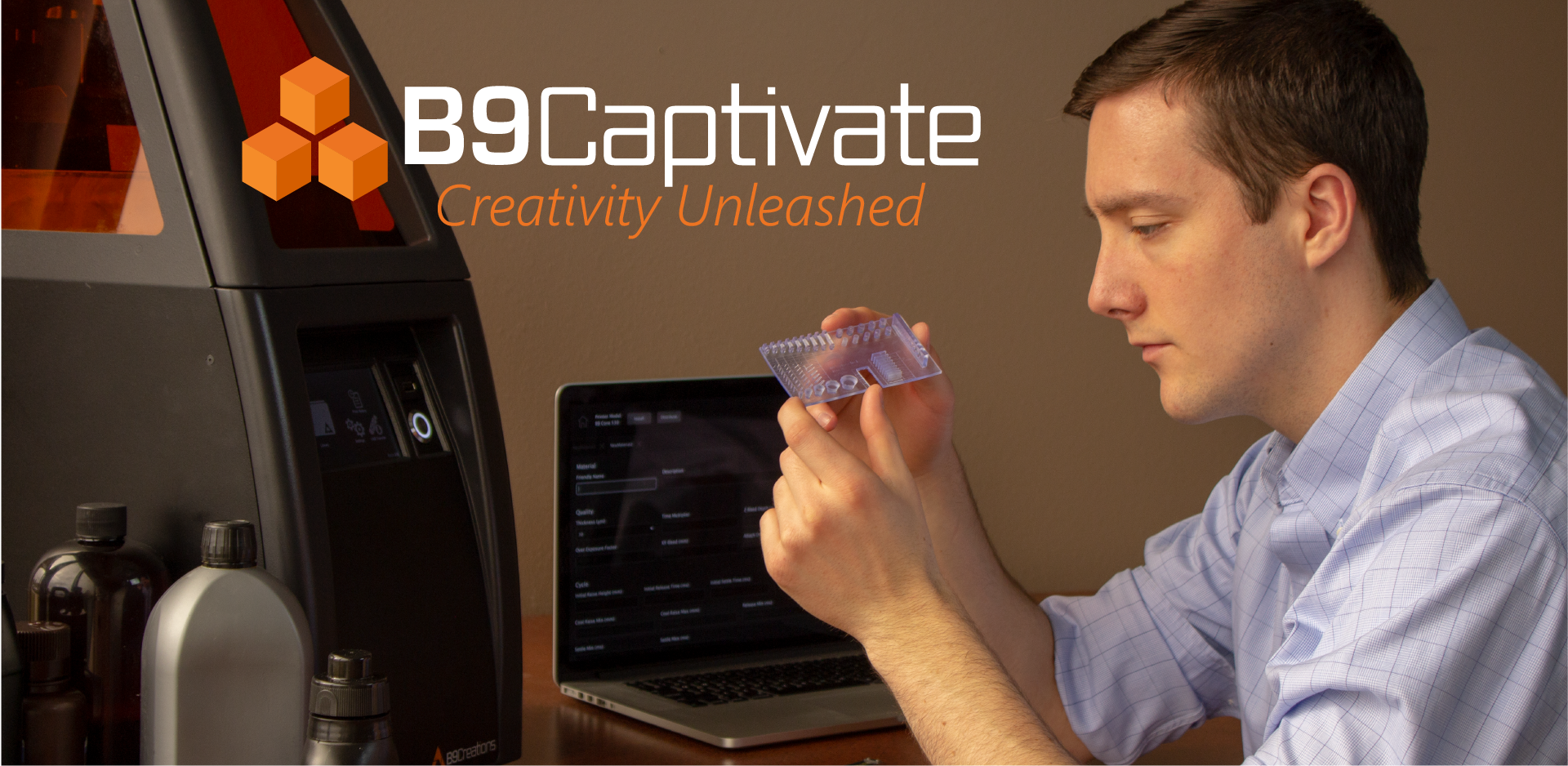 B9Captivate
Creativity Unleashed
Your business, your research, your products hold the power to transform industries. To change the future of medicine or the nature of manufacturing, to pioneer groundbreaking discoveries and deliver products unlike any other into consumers' hands.
3D printing helps you get there faster and more cheaply than ever before.
But only if you have the right materials for the job.
Meet B9Captivate. A material development toolkit that helps you optimize for the chemistry of your custom materials and the geometry of your part – so you can develop settings perfectly engineered for your application.
Basic
Professional
Enterprise
Slice

Thickness

Exposure
Technical

Support

Bleed Factors

(XY and Z)

Cycle Factors

The way your machine moves when it prints

Version

Control

Material

Development

Support

Dimensional

Fine Tuning

Third-party

Distribution

Multiple User

Licenses

Download
Buy Now
Talk to
Basic

Features
Professional

Features
Slice Thickness
Exposure
Technical Support
Bleed Factors (XY and Z)
Cycle Factors

The way your machine moves when it prints

Version Control
Buy Now
Enterprise

Features
Slice Thickness
Exposure
Technical Support
Bleed Factors (XY and Z)
Cycle Factors

The way your machine moves when it prints

Version Control
Material Development Support
Dimensional Fine Tuning
Third-party Distribution
Multiple User Licenses
Talk to Sales
And you don't have to be a chemist to get it right.
B9Captivate comes with a comprehensive help center database, minimum and maximum values that prevent settings that could damage your printer, and auto-fills any values you leave blank with those of a standard prototyping resin.
With version control and a breadth of material fields, B9Captivate users can adjust curing properties like z-bleed and exposure, and cycle factors that control how your machine moves as the material prints.
Wondering what the difference is between Basic, Professional, and Enterprise?
B9Captivate Basic is free and included in your B9Create software. It allows you to modify slice thickness and exposure. Professional offers both those settings plus mechanical cycle settings, version control and optimization. Enterprise offers all that plus dimensional fine tuning, third-party distribution, and material development support. To access B9Captivate, users must download the latest firmware.
If you want to take a more in-depth dive into B9Captivate, please click here.
"B9Captivate really makes the B9 Core Series invaluable to us. Due to the level of intricate details involved in our prints, there is no available off-the-shelf resin at present that can produce the parts needed for our business. This software has now closed that gap. Pairing the B9 Core Series with B9Captivate has allowed us to not just match, but actually improve on the already high-quality prints from other 3D printers we've owned in the past. Plus, the B9Captivate user interface is straightforward, clean, and intuitive once you understand how the material files work."
B9Captivate Professional and Enterprise levels require a license to operate and can only be used with a B9 Core Series 3D printer.
Download
Software
This plugin for the B9 Core Series can be downloaded on a USB and installed directly on the printer. It also requires a paid license to operate.
Download
Printer Plugin