The Fastest DLP Printer With Unparalleled Precision Jewelry
& Casting Model Making
& Entertainment Prototyping
& Manufacturing Research
& Education Aerospace
& Defense
Engineered to bring you unmatched precision & surface finish.
Increase your speed-to-market, maximize your productivity, and serve your customers faster with the B9 Core Series. A professional 3D printing solution, the B9 Core Series 3D printers are designed to suit a multitude of applications including jewelry, rapid prototyping, manufacturing, industrial design and engineering, research, and more - serving brands from 3M to Procter & Gamble and General Electric.
Requiring no calibrations, the B9 Core Series 3D printers print at exceptional speeds without sacrificing print resolution or surface quality.
Maintenance-free, reliable, and equipped with a range of design, engineering-grade, and casting materials, you can move from prototyping to production runs of thousands of parts with ease.
And the push-button operation doesn't stop at the printer. The B9 Core Series workflow includes automated, no-mess cleaning with the B9Clean and curing in minutes with the B9 Model Cure.
To guarantee your new 3D printer begins generating a return on investment immediately, we include factory startup assistance with every B9 Core Series sold and access to a network of industry partners with expertise ranging from CAD design to casting to deploying additive manufacturing solutions at scale.
Integrate the end-to-end solution that enables your business to operate more efficiently and profitable than ever before. Simple, fast, automated - so you can focus less on process and more on proven results.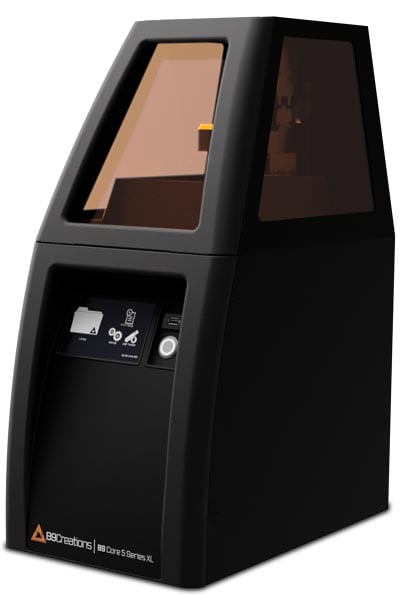 B9 Core 530
Bring your most detailed designs to life with outstanding precision and surface finish with the B9 Core 530. It offers all the features of the Core 550 with finer resolution. Its speed and simplicity make it perfect for designers, shops and small jewelry businesses. Finally, a tool you can depend on at a price that fits your business.
| | |
| --- | --- |
| Print Dimensions | 57.6 x 32.4 x 127mm |
| Print Speeds | 40-120+ mm/hr |
| Effective Resolution with FAST™ | <15µm |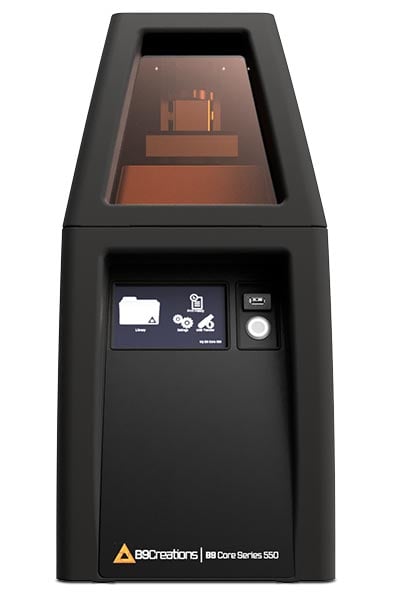 B9 Core 550
When your business requires repeatability, precision, and surface finish with industry-leading speed and production capacity, the B9 Core 550 is your choice. Its low operating costs, networkable architecture for scalability, and ease of use are ideal for high-volume businesses where operators need to focus on production, not calibrating printers.
| | |
| --- | --- |
| Print Dimensions | 96 x 54 x 127mm |
| Print Speeds | 25-100+ mm/hr |
| Effective Resolution with FAST™ | <25µm |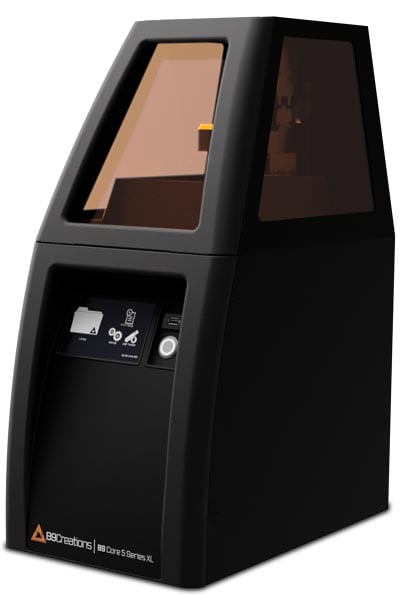 B9 Core 5 Series XL
With a build volume nearly 5 times the B9 Core 530 and 2 times the B9 Core 550, the B9 Core 5 Series XL offers a digital manufacturing solution that eliminates the need to choose between a larger build area and high-precision. Enabled with patent-pending FAST™ technology, it delivers volume production and effective resolution finer than 25µm.
| | |
| --- | --- |
| Print Dimensions | 124.8 x 70.2 x 127mm |
| Print Speeds | 15-85+ mm/hr |
| Effective Resolution with FAST™ | <25µm |
"We have been so impressed by this printer – we own 3 of them. I have been 3D printing for 6 years now with different high-end printers and prefer the speed and resolution of the B9 Core Series."
- Ryan Mullen | Jamming Gems
Ease-of-use, precision, and performance
The fastest DLP 3D printer on the market, the B9 Core Series offers unbeatable ease-of-use, precision, and repeatable performance to help you move seamlessly from prototyping to production runs of thousands of parts. Out-of-the-box and printing in 15 minutes, the B9 Core Series plug-and-play solution offers:
Repeatable performance with 0 calibrations and an industrial light engine
Print speeds reaching 100+ mm per hour
Wide selection of design, engineering, and castable resins
Low cost per unit of throughput and resin vats lasting thousands of prints
Platform open to third-party materials & custom material development toolkit
Intuitive print preparation software with job queuing, surface finish, and FAST™ technology
Scalability with multi-printer management and automated post-processing
Free, world-class factory startup assistance and tech support
Return on investment in 12-18 months with financing available

Technical Data
LIGHT SOURCE
Industrial HD UV LED Light Engine - 405nm
MATERIAL SYSTEM
B9Creations Resins & 3rd Party Materials
SOFTWARE
B9Create 2.0 + FAST

™

CONNECTIVITY
Wi-Fi, Ethernet & USB drive
PRINTER WEIGHT
21kg (46 lbs)
PRINTER DIMENSIONS

597 x 419 x 267mm (23.5 x 16.5 x 10.5")

POWER
12VDC 5A
WARRANTY
1-Year
*Material, model geometry, and slice thickness dependent

Take the work out of your workflow. The B9 Core Series delivers production-grade parts with software and post-processing to match. Simple, fast, automated - so you can focus less on process and more on proven results.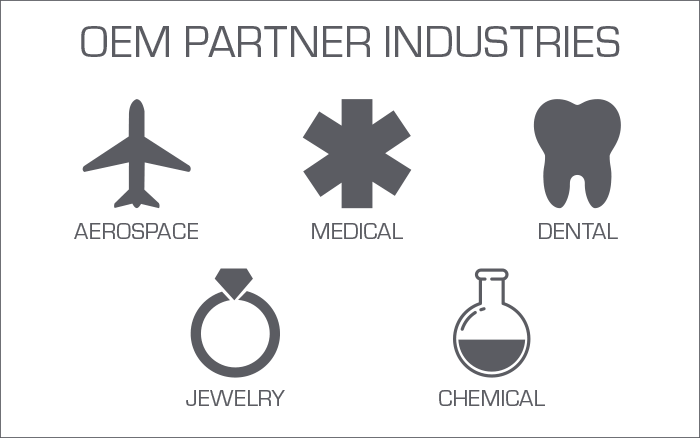 OEM and Strategic Partner Solutions
B9Creations' robust technology and product development capabilities — across hardware, software, materials, and services — deliver customized 3D printing solutions that act as an engine of growth for its OEM customers and allow them to better serve their customers.
We've created the only print preparation software that offers industry-specific workflows, intelligent support algorithms, exclusive materials, and custom-built 3D printers for strategic partners in healthcare, aerospace, and other industries where precision is paramount.
"I needed the ability to rapidly prototype each iteration as I went along, and the B9 Core Series 550 gave me the ability to do that. Literally I can print something off, go back to work, then as the next iteration comes along, I can cycle it in at that time. Outsourcing triples or can even quadruple my wait time for each design iteration. That's what made this printer purchase to bring production in-house so valuable."
- Duane Langenfeld | Jabuti Hail