We Power Your Research So You Can Change our World


Prototype to Production

Cutting-edge research

tools for innovation

student design projects

Material development

Bring Your Breakthrough Ideas To Life
Companies across the chemical manufacturing, research, engineering, and educational sectors are adopting our ultra-precision digital manufacturing solutions to bring breakthrough ideas to life from the lab to the classroom, prepare students for future-proof careers, bring devices and materials to market faster, and improve production more efficiently and profitably than ever before. Today, we have earned the trust of teams worldwide through digital solutions that deliver proven results and a payback measured in months.
See the solution leveraged by brands from GE Research to Sartomer, Stanford, University of Michigan, Oak Ridge and Sandia National Laboratories, and more.

Bring Your Research To Life
Engineered with input from industry experts in industrial settings, our ultra-precision, high-speed additive manufacturing solutions enable you to be more innovative than ever before. Leveraging patented technology, the B9 Core Series 3D printers are precise, fast, reliable, and easy to use.
Research & Engineering - Bring breakthrough ideas and design concepts to life
Chemical Companies - Develop novel materials tailored for additive manufacturing
Colleges & Universities - Prepare students for future-proof careers
Technical Schools & Fabrication Labs - Incorporate industrial-grade 3D printing into your fabrication labs and maker spaces
Want the platform that delivers proven performance and payback?
Join thousands of researchers, engineers, and educators who already do.
"Protecting intellectual property is one of the largest problems of living in a technological age, and it's becoming more important than ever for businesses, pharmaceutical companies, and the government to guarantee their product's legitimacy. We're reducing the threat by using B9Creations cutting-edge, precision technology as anti-counterfeiting technology with 3D printed QR codes, only visible under infrared light, to authenticate products."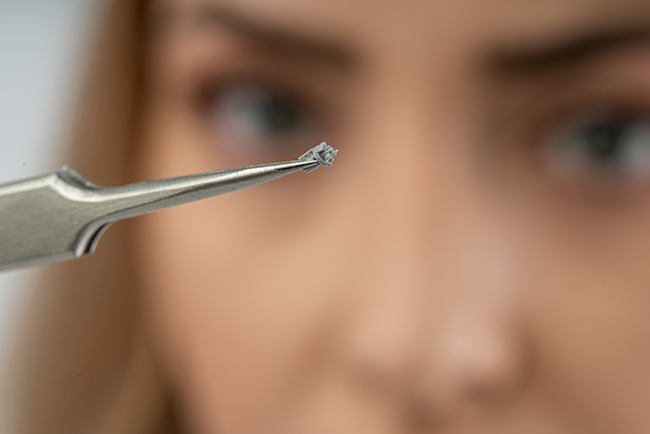 Production-Grade Parts. Post-processing To Match.
Through an investment partnership with Mitsui Chemicals, a global leader in healthcare materials, B9Creations launched a new strategic partnership with Mitsui's subsidiary, SDC Technologies to deliver novel materials tailored for additive manufacturing applications.
Paired with B9Creations biocompatible, design, engineering, and elastomeric resins, healthcare professionals and medical device manufacturers can move from virtual model to print and prototyping to production runs of thousands of parts seamlessly.
Leveraging patented technology, the B9 Core Series 3D printers are precise, fast, and easy to use.
Out-of-the-box and printing in 15 minutes and never requires calibration
4x faster than industry average with <15 to <25 um effective resolution
Factory startup assistance and lifetime support included
A robust suite of design, engineering, and biocompatible materials
Open to third-party materials with B9Captivate software, a material development toolkit
Intelligent print preparation, management, and monitoring software
Streamlined workflow with automated cleaning & curing post-processing units
With automated post-processing, you can integrate the end-to-end solution that enables your business to operate more efficiently and profitably than ever before. Simple and fast, the B9Clean and B9 Model Cure let you focus less on process and more on proven results.
See our product guide for all hardware, accessories, materials, software and services.
PIONEERING RESEARCH WITH 3D PRINTING
See how universities are:
Finding the cure for osteoarthritis through 3D cultures
Stopping counterfeiting in its tracks with invisible 3D printed QR codes
3D printing in microgravity for use on the International Space Station
Creating 3D printed self-sending parts to detect structural damage
Tracking wildlife populations with 3D printed expandable collars
Want to hear from more customers? Check out our blog and more case studies with universities and researchers around the world on how they leverage additive manufacturing technology to bring their ideas to life.

Manufactured Parts On Demand
Leverage our 3D printing service bureau, capable of bringing your research to life and revolutionary products to market faster than ever before - with engineering and biocompatible materials fit for R&D through scaled manufacturing.