Advanced Micro 3D Printer Performance at ¼ the Price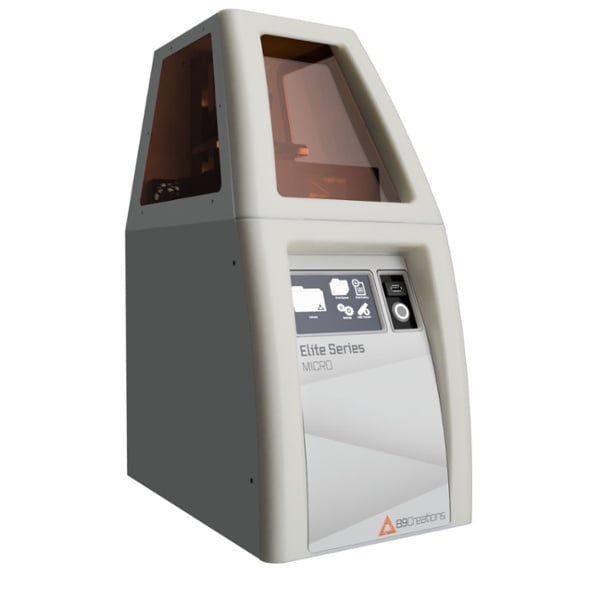 Meet the B9 Elite Series
B9Creations' Elite Micro enables users to 3D print geometries that would be impossible to create any other way – redefining additive's place in the manufacturing ecosystem and fueling a new revolution spanning several medical and industrial applications.


The Elite Micro brings 3D printing to the forefront of modernization. With ultra-high resolution, accuracy, precision, and repeatability, the first platform of
this hardware series offers native pixel size of 20 microns

with wall thicknesses down to 30 microns and holes down to 100 microns, delivering even the most challenging micro parts at production quality

– for one-fourth the cost of high-end micro 3D printers.
Many promise performance.
B9Creations has developed state-of-the-art technology that delivers tolerances exceeding those of traditional and precision manufacturing equipment, powering 3D printing to operate with equal capability and credibility
–
opening the door to fully scaled production.
Ideal for microscale additive manufacturing in medical and industrial applications, B9Creations' ultra-precision Elite Micro platform pushes the boundaries of feature size capabilities and delivers even the most challenging micro parts at production quality.
Leveraging patented technology, the B9 Elite Series is precise, fast, and easy to use.
Out of the box and printing in 15 minutes with factory startup assistance included and never requires calibration
Intelligent print preparation, management, and monitoring software
Streamlined workflow with automated cleaning and curing post-processing units
Open to B9Creations resins and third-party materials, or have B9Creations develop a custom resin
Annual service package that includes on-site training and installation, dedicated customer success specialist, hot swap program, and more
Print Dimensions

38.4 x 21.6 x 127mm

Print Speeds

1-7+ mm/hr

Effective Resolution with FAST™
<20 µm native pixel size XY,
10-20 µm Z
Materials
B9 Material Suite:
HD Slate, HD Clear, ABS/PC


Open to 3rd-party materials

Wavelength

385 nm
3D print complex microscale geometries with the platform that's pushing the boundaries of feature size capabilities at the scale and tolerances nearly meeting or exceeding micro injection molded parts.
"There are so many parts I see a machine like this finally making possible to create, that otherwise might have been out of reach for many due to system costs. This machine brings respectable precision, on a reliable platform already established for its ease of use, along with decent build rates – and you did it for a reasonable price in relation to its capabilities."
ELITE MICRO CASE STUDY

CHALLENGE
This R&D department kept receiving parts that pushed the boundary of feature size on B9Creations' Core 530 commercial printers, but wanted to have a platform that could still offer the speed, ease of use, and value of the B9Creations platforms.
SOLUTION
We developed a platform that could offer micro holes and thin wall thicknesses for parts pushing the boundaries of feature size capabilities – for one-tenth the cost of a BMF or Nanofabrica.
---
Senior Principal Design Technician
$1M Internal Service Bureau Lab
Largest U.S. Medical Device Manufacturer