Iterative design is a critical step in ensuring precision of medical devices – however, as a consequence of slow production times, this process is often a bottleneck.
Slow production times, in turn, decelerate design iterations, functional and regulatory testing, product-market fit feedback, and ultimately, speed to market.
The Benefits of Digital Manufacturing for Medical Device Design
Digital manufacturing enables users to design without the constraints of traditional manufacturing and allows them to rapidly and cost-effectively create an array of medical devices, including ones that require microscale or complex features, or are customized to a patient. Features like hollow cavities, pockets, and undercuts are much easier to achieve with digital manufacturing resources. And, replacing the costly setup and tooling of traditional injection molding or CNC machining with digital manufacturing capabilities like 3D printing allows engineers a quick and cost-effective path forward through iteration.
"Medical devices keep getting smaller. We send out a sample print with features I though would never print! B9Creations produced AND shipped it to me the next day. Now we have multiple commercial and custom B9 Core Series printers in-house. Nobody is faster, easier to use, or can print parts like this."

Kevin Herrera | Cardiovascular Medical Devices at Johnson & Johnson



Johnson & Johnson's 2 mm x 2 mm x 4 mm part printed in our HD-Slate resin on the B9 Core 530
Medical device design is a repetitious process spanning many iterations that can be optimized through the flexibility of 3D printing (also known as additive manufacturing). Bringing 3D printing in-house lowers the barrier of access to bridge tooling for design and market validation before making a capital investment in tools.
3D printing empowers medical device designers and engineers to easily iterate between CAD files and functional prototypes.
By moving away from traditional processes and taking their production digital, medical device companies:
Tighten feedback loops

Accelerate iteration

Free up time

Cut costs

Minimize risks of manufacturability

Identify and mitigate usability issues before moving into production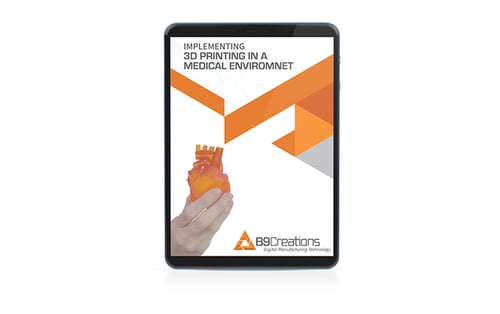 Want to dive deeper into the process of implementing 3D printing in a medical environment?
Tighten Feedback Loops & Accelerate the Iterative Design Process
Additive manufacturing accelerates the iterative process by enabling medical device designers and engineers in the R&D and prototyping space to create functional prototypes in production-grade materials, while taking feedback and leveraging it to execute design adjustments in real time. This process improves communication and promotes reliable designs.
Listen in on a conversation we had with Johnson & Johnson on how they're using additive manufacturing for microscale medical devices and leveraging custom 3D printing solutions to produce parts on-demand.
Free Up Time & Cut Costs
The success of a prototyping workflow is most often hindered by a single factor – or, more accurately, the lack thereof – speed. With high-speed 3D printing, users can get parts in an hour and print more than 10 different design iterations daily, compared to the days or weeks of traditional prototyping.
Find out how Actuonix Motion Devices, a provider of innovative micro motion solutions for the growing needs of the healthcare sector as well as several other markets, shortened their product iteration cycle from 6 weeks to 2 days and saved thousands in the process.
Minimize Design Errors
Without sufficient design validation, errors – which become more costly and risky as a device moves through the product design process – are likely to occur. Thoroughly testing functional prototypes that closely resemble the final product is vital in order to minimize the risks of manufacturability and usability issues before moving into production.
Learn more about the key reasons to leverage digital manufacturing in a medical environment and the applications best suited to 3D printing.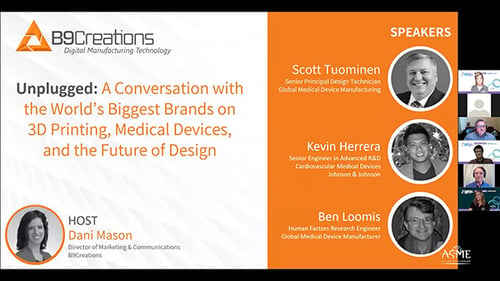 Hear from the world's largest medical device companies on how they're using additive manufacturing, how it's changed the way they design, how to bridge from prototyping to production, and where additive is headed next.
Why B9Creations?
As a global provider of digital manufacturing technology, B9Creations has become the industry leader in production, speed, and value across its 3D printing hardware, software, materials, and services platforms.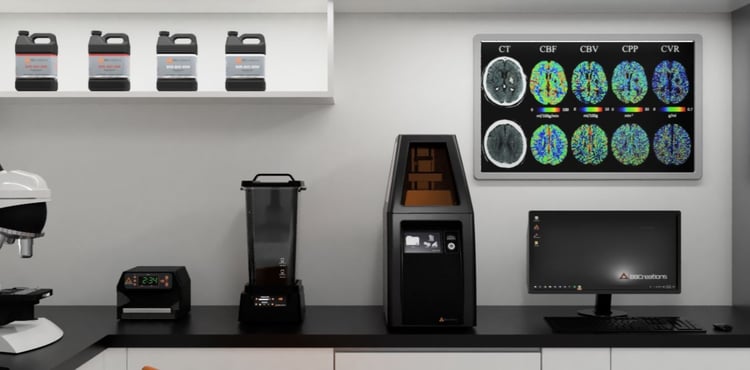 The New Standard in Medical-Grade 3D Printing
Engineered with input from industry experts in manufacturing and clinical settings, B9Creations B9 Core Med 500 and B9 Core Med XL 3D printers are built in world-class manufacturing facilities in the USA, boasting IEC 60601-1 and IEC 60601-1-2 medical equipment compliance, CE certified through third-party testing.
With B9Creations industrial and medical-grade 3D printers and suite of biocompatible and engineering materials, users can produce parts in an hour – including printing, cleaning and curing – whereas other in-house methods take a day or sometimes multiple, and outsourcing can be weeks.
Engineered to Bring Unmatched Precision at Unbeatable Speeds
Just because a 3D printer claims high resolution in its technical specifications, does not mean your parts will be accurate or precise. Low-quality components, calibration requirements, material properties, and post-curing all can affect how accurate your 3D printed part is compared to your CAD file, and how consistently your printer delivers the expected output. In addition, some 3D printers sacrifice dimensional accuracy for surface finish – a tradeoff that design engineers should not have to make. These aspects are critical to a successful prototype and require selection of a high-quality 3D printer.
With B9Creations patent-pending FAST™ Technology, users no longer have to choose between precision and surface finish. R&D and design engineers now can benefit from an even better surface finish and pinpoint accuracy with absolute fidelity to a CAD model. FAST™ enables customers of small- and larger-format printers to benefit from a smooth finish and unbeatable accuracy. With FAST™, the B9 Core 5 Series XL delivers effective resolution finer than 25 microns, even though its print volume is 5 times larger than the Core 530 and 2 times larger than the Core 550.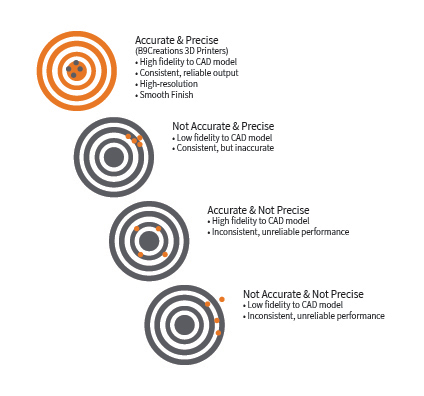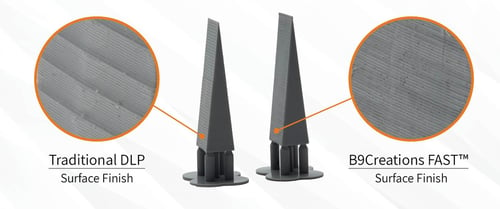 Learn more about B9Creations medical solutions here.
B9Creations Medical 3D Printing Service Bureau
Whether you're ready to explore the integration of additive technology into your business, looking to get expert advice before making the leap to new technology or materials, or simply have too many designs and too little time – we're here to help!
Leverage our 3D printing service bureau, capable of bringing your patient-customized surgical planning and tools, high-precision educational models, and revolutionary medical devices to market faster than ever before.
Have Questions?
Connect with a team member to get answers!