The best part about our technology is the incredible things you do with it. That's why for our year in review, we want to focus on you. From a partnership that launched the iPhone XS and 3D printing award-winning designs to helping stop global counterfeiting and taking your business from startup to Showtime TV, you made it happen in 2018 - and we're honored we got to be with you every step of the way.
You Created an iPhone Launch Unlike Any Other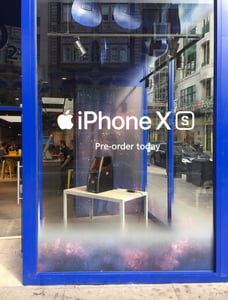 iMakr partnered with O2 one of the largest mobile phone networks in Europe, to deliver an experience unlike any other for the pre-order launch of the new iPhoneXS.
Using an Artec 3D scanner and B9Creations 3D printing platform, iMakr and O2 scanned and printed 150 VIP guests live in three locations across the United Kingdom – London, Birmingham and Manchester.
"When O2's branding agency TCC asked us if we could 3D scan and print 150 people across three locations in one day, we were excited to take on the challenge. We decided to bring in the B9Creations B9 Core 550 enable what is essentially distributed additive manufacturing at a speed that would keep the event flowing in real time. We knew we needed print speed, high precision and dependability to pull this off, and the Core Series delivers on all fronts," said Eric Savant, CEO of iMakr, the leading reseller of 3D printers located in the United Kingdom and United States.
With a launch focused on personalizing an iconic, global product, the iPhone, to reflect the individual user, 3D scanning and 3D printing guests was a natural fit.
You Designed an AGTA Spectrum Award-winning Ring
Veteran bench jeweler turned 3D printing master, John Haynes, designed the 2018 AGTA Spectrum Award-winning piece – a platinum Solar Blossom ring featuring a 14.3 ct. orange Zircon accented with tsavorite Garnets and Diamonds.
The piece is inspired by a sunflower, hence the name Solar Blossom, which means sunflower. The shanks that come up with the green tsavorite Garnets represent the leaves. The white diamonds are the sun reflecting on the outer ridges of the leaves. The reflector dish underneath are the petals.
What did it feel like when I found out he won?
"It was very sweet because I was sitting in the hospital. My daughter was having a very extensive surgery, and I had no idea I had won. I just started receiving texts from friends in the industry, so that was really good news at the time. She's doing great now."
You Stopped Counterfeiting in Its Tracks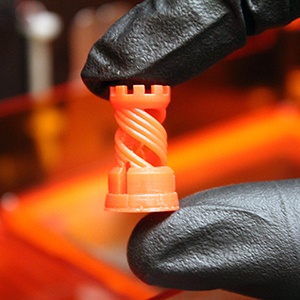 Counterfeiting is predicted to drain US $4.2 trillion from the global economy by 2022, and can negatively affect virtually every economic sector, often with fatal consequences. Not only is currency a target for counterfeiting, but also pharmaceuticals, legal documents like bank notes, high-priced art, historical artifacts, consumer electronics, and even wearable apparel. In response, huge steps are being made by South Dakota School of Mines and Technology researchers through a B9Creations 3D printer.
Researchers placed upconverting nanoparticles in 3D printed QR codes, making them invisible to the naked eye but appear under infrared light. QR codes already hold 100 times more information than bar codes, and when placed on an object, the QR code could tell the intended recipients boundless information - from the history and description of a piece, like a historic artifact, to the implications or applications of a piece, like pharmaceutical packaging.
Because it's an invisible QR code printed on a piece, this information can be linked to the piece without compromising its integrity. The manufacturer's name, origin, date, and other valuable information can protect the item from being fraudulently copied or used, even in the future. And the best part of it all? The piece will remain exactly the same to the viewers, with an arsenal of protection and safety hidden on it in plain sight.
You Took Your Model Making from Startup To Showtime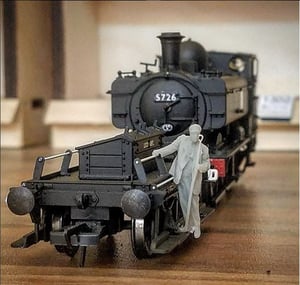 After investing his life's savings in 3D printing and starting up the model making company Modelu 3D, Alan Buttler began to have lots of success creating highly detailed model railways, complete with figurines where every single person 3D scanned and 3D printed actually does the job for real.
In the first year, Alan did 35 exhibitions, turned down 20 more, and did a number a TV-related jobs along with wholesale orders, some 3,000 figures or more.
He was also approached by filmmakers doing documentaries, like one on a band called XPC, who wanted the band scanned and printed out in 176th scale, before the film aired on Showtime in Canada and the US. And he's scanned and printed contestants on "The Great British Bake Off," has had families commission him to scan and print their loved ones (like one owner of a massive construction company and a Lord!), and even a statue of WWII soldier.
Now he's looking to move into new markets like military and aviation, do more TV and film work, and work with model manufacturers to design their models prior to release.
You Recreated Heirlooms Nearly a Century Old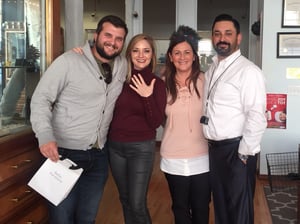 Military dog tags are highly personal, an ID as unique as its user and a silent statement of their commitment. For a soldier facing the unthinkable, they serve as a reminder that they will not be forgotten. They will not be unknown. When Kurt came into Irelia Fine Jewelry, it was with a mission of his own. Kurt was challenged with replicating a cherished heirloom – his client's dog tag, a vintage, hand-stamped sheet metal treasure over 60 years old.
In a mere 10 minutes he got a high-detail STL file of the tag from Irelia Fine Jewelry. From there it was as simple as importing the model into Matrix and creating a thicker back plate, so this new piece would last a lifetime.
Irelia Fine Jewelry also recreated a grandmother's priceless engagement ring, so her grandson could give it to the woman he loves. And by adding structural integrity to the ring, they ensured it would last for many generations to come.
You Transformed Your Business and Gained Celebrity Clientele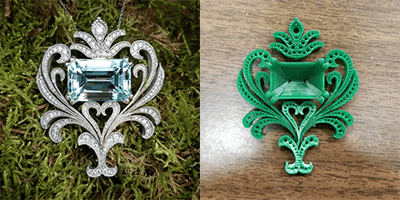 In a tradition honed from the time the Navajo tribe brought silversmithing to the Southwestern United States, a tradition Meghan Proctor herself entered at the age of six taught by her father, Meghan life's work would lead to custom pieces created for celebrities ranging from Celo Green to Nelly, Arthur Blank, and the co-founder of Home Depot.
Meghan and her father, Rick Hubbell, have customers who have been coming to them since day one, like one customer who commissioned the family business to make every piece of jewelry his wife has ever worn since they opened their doors. And now since adding 3D printing to their business, they've gotten 20 jobs in a couple of short weeks, took home the Georgia Jewelers Association "Jeweler's Choice Award 2018" award, and are looking to launch their own bridal line.

You Transform Industries, Pioneer Discoveries, and Deliver Products Unlike Any Other
We make the technology that powers your businesses and watch as you change the world. We can't wait to see what you do in 2019. Thanks for an incredible year!