South Dakota-based manufacturer of resin 3D printers B9Creations has unveiled its largest-format 3D printer to date – the Core 6 Series MPro, launching alongside the B9 CleanPro post-processing unit, at RAPID + TCT 2023.
B9Creations says it has introduced the Core 6 Series MPro 3D printer to cater to customers who require a larger design space while maintaining the ultra-high resolution and accuracy that B9Creations' platforms are known for. According to the company, the printer features a build volume of 192 x 108 x 304 mm and boasts an effective resolution finer than 40µm. B9Creations has developed "advanced technology" that delivers tolerances equal to or exceeding those of traditional and precision manufacturing equipment, enabling 3D printing to operate with the same level of capability and credibility. B9Creations believes this advancement opens the door to fully scaled production.
Additionally, B9Creations has created a waitlist for its Core 6 Series MPro 3D printer. Potential customers can register through this link.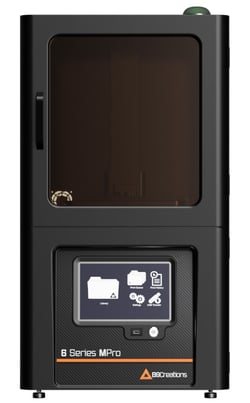 B9 CleanPro post-processing solution
B9Creations' B9 CleanPro cleaning unit is intended to work in conjunction with the company's Core 6 Series MPro 3D printer, as well as other additive manufacturing solutions.
By introducing CleanPro, B9Creations extends its line of AM equipment and provides a complete post-processing solution to its customers. The high-performance unit effectively eliminates support structures and residues from printed parts, resulting in smooth and clean surfaces.
B9Creations offers on-demand 3D printing services via its service bureau, providing customers with a fast and efficient way to develop novel products and "bring their ideas to life," says the company. The manufacturer's printing services encompass a diverse range of applications, enabling businesses to seamlessly integrate B9Creations' technology into their operations.
Read the full article, published by 3D Printing Industry, here.