RAPID CITY, S.D. (Nov. 6, 2018) – B9Creations announced today two powerful new software features for the B9 Core Series: Surface Finish and Queue, responding to the market's desire for improved surface finish and the ability to more efficiently manage printing workflow in high-volume applications better than ever before.
"We are always listening to and leveraging customer feedback to drive product developments. Customers asked for a more efficient way to manage their digital workflow and to optimize for surface finish on models requiring a flawless finish. We transformed that feedback into technology with the launch of Surface Finish and Queue," said Shon Anderson, B9Creations CEO.
Driven by user feedback, the new Surface Finish software feature augments the exceptional print speed and crisp detail of the B9 Core Series with remarkable smoothness that reduces post-processing time. Ideal for when a flawless finish is a must, Surface Finish was designed for making master molds or unique pieces requiring a superior finish.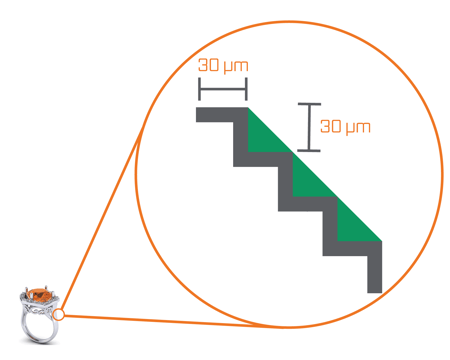 Ideal for making master molds or for pieces requiring a flawless finish, B9Creations' Surface Finish technology smooths the edges of prints.
The Queue feature in B9Create makes managing high-volume production easy, offering customers an intuitive way to optimize their workday no matter how many models, machines or team members are involved. Our software now enables separation of process management and scheduling from the act of printing. Shop Floor or Production Managers can prioritize workflow and leave the printing to technician due the speed and simplicity of the Core Series platform, powered by B9Create, B9Creations free software package.
With Queue, customers can:
Batch upload files to the printer
Select models, materials, and resolution
Slice files directly in the Queue
Reorder and delete models with a click
Update the Queue in real time on the printer
Lock the Queue
Get time estimates for the Queue
Reprint or move to the next model at the printer
Both features are available in B9Creations free software, B9Create, available for download here. For an online demonstration of the production capabilities of the Core Series and B9Create or to learn about B9Creations full suite of products, visit www.b9c.com.

###
MEDIA CONTACT
Dani Mason
Marketing Director
(605) 593-6726
About B9Creations
As a global provider of professional 3D printing solutions, B9Creations has become the industry leader in production, speed and value. It now stands as the additive manufacturing market leader in high-precision applications such as jewelry, prototyping and manufacturing, research, medical devices and model making. B9Creations serves customers and certified dealers in 66 countries around the globe. Find us online at b9c.com, on Facebook, Twitter, Instagram, YouTube and LinkedIn.