Kevin Wheat designs and creates extraordinarily beautiful custom pieces of jewelry. What began as a hobby for him in the late 1970s turned into Wheat Jewelers in 1983. Serving the greater Lansing, Michigan area, Wheat Jewelers offers one of the largest engagement ring selections in Michigan with thousands of engagement rings and wedding bands in the store.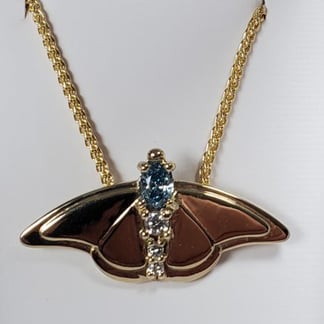 A butterfly pendant with a rare 3/4 carat oval blue diamond by Wheat Jewelers.
His primary work is custom engagement rings and repairs, and everyone at Wheat Jewelers plays an important part in the business. Kevin is a jewelry designer that enjoys completing the entire customization process in-house. "I don't want to work any harder," he says. "I want to work smarter and have more time to play."
Custom Jewelry Design Solutions
Kevin has been a longstanding Stuller customer for 32 years and utilizes both MatrixGold® and CounterSketch® — two of the industry's most powerful solutions for custom jewelry design from Gemvision. Typically, those who get into the 3D space are looking to complete the customization process in-house. It takes a lot of research, investment, and trial-and-error to get really good at CAD software design, and then subsequently 3D printing.
He recently purchased the B9Creations™ Core 5 Series XL 3D Printer, Cleaner and Cure Bundle from Stuller to make that happen and is pleased with the results. "The B9Creations 3D printer is a great tool to add to our shop," he says. "It is so much faster than our mill. Before we could probably mill three rings a day. Now we can do 30-40 rings a day easily with the new printer."
Chris Leonard, a tools product manager for Stuller says, "Most importantly, the B9Creations™ 3D printer gives you the ability to print models easily and quickly in about 15 minutes to put on a customer's hand. It's a conversion tool. If they can sit there and love the model you just made, you can close the sale."
Wheat Jewelers Designer Showcase
Wheat Jewelers is open four days a week primarily by appointment and walk-ins are welcome if they are available. Using the B9Creations™ 3D printer has changed their business in the best way possible with its extraordinary speed and unparalleled precision. Click here to view more custom jewelry designs from Wheat Jewelers and check them out on Instagram and Facebook.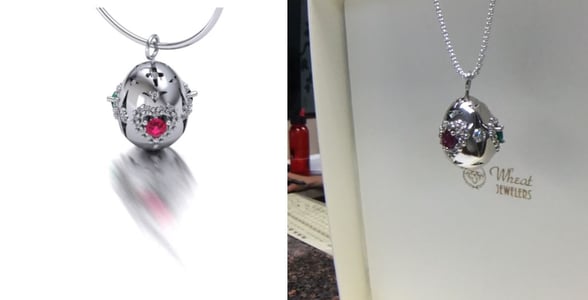 Platinum Fabergé®-inspired pendant featuring a Ruby, Sapphire, Emerald, and several diamonds by Wheat Jewelers.
Kevin Wheat wants to enjoy the quality of his life, and is in no hurry to retire. Now he will have more time to play while continuing to bring joy and satisfaction to his customers with beautiful jewelry to cherish.
To increase your speed to market, maximize your productivity, and serve your customers faster, shop all of B9Creations 3D Printing Solutions here and see our past blog Stuller Launches B9 3D Printing Solution.
* This case study, written by Cheryl Robichaux, was reposted from Stuller Blog. Read the original post here.