B9Creations sat down with John Schneider, owner and operator of Dakota Optics, to learn more about how he's leveraging additive manufacturing to run his business. John founded Dakota Optics in 2017 with the goal of providing high-quality Athlon Optics to hunting and shooting enthusiasts. Dakota Optics has expanded to promote additional American-made gun cleaning products and other firearm products, working with veteran owned/run companies whenever possible. John is a 24-year United States Army Veteran and is committed to providing the highest quality of services to military service members and their families.
Q: Tell me a little about you and what you do. What drove your passion?
A: My name is John Schneider, and I own Dakota Optics and Dakota Gun Cleaners. Before I retired from military service, I was looking to start my own business. And a bunch of guys were looking at Athlon scopes when they first came out, so I decided to look into becoming a dealer. That morphed into having an e-commerce business, and then doing the gun cleaning.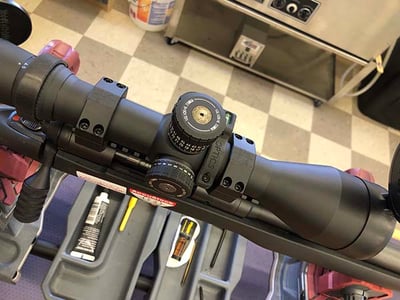 Q: What problems has 3D printing solved for your business?
A: Last fall, I was approached by B9Creations to get a printer, and since then, I've been manufacturing my own parts to make them better and to develop my own brand. I got tired of scopes breaking after you spend a thousand dollars, so I started buying products and testing them, and that way, I could make recommendations. 3D printing has given me better market base – some of the products I'm testing put me into a different space outside of optics, because a lot of competitors are using machine aluminum for some of the parts, and there is a lot of waste. Whereas with 3D printing, I can sell my accessories for about half the price and still make a good profit – or because of the quality and look of it, I could probably sell things for the same price as competitors. Now, I use 3D printing to create everything I sell in my Dakota Optics line.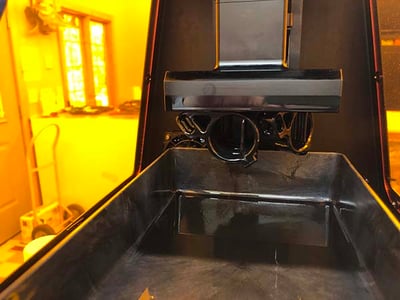 Q: Why did you choose B9Creations and its B9 Core Series technology?
A: My customer base varies – I sell entry-level to top-of-the-line products, thermal and night vision goggles, as well as my new line of 3D printed scope bubble levels, used for anything from hunting to long range shooting to precision rifle competitions. When you get into long range shooting, if your rifle and scope aren't level when you shoot out to 700 or 1,000 yards, it'll be off. The joke is that long range shooting is "golf for men", and as it has taken off, there are a lot of different companies out of China where you can get things at a really cheap price point, but with quality to match. Because of that lack of quality, everyone now wants "Made in America" products, and I wanted to create a quality product that would last, and not break, for my customers, and B9Creations' technology and Rugged - Nylon 6 resin fit the bill. Customers will spend anywhere from $1,000 - $5,000 on the scope and $500 - $5,000 on a rifle, and then put a cheap, chintzy-looking part on there. Well, I wanted something that looks nice and clean and goes with the line. When I compare my 3D printed product to other products on the market, it looks totally different – it prints a lot cleaner and is high quality. There's a lot of opportunity because I can print right in my shop and not have to have $30,000 in a CNC machine and hire a CAD programmer, which is just too much money for a small shop like mine. People like to see things will hold up when you're hunting in below 20-degree temperature, and this fall, hopefully I'll get to test that with this material too. Plus, working with B9Creations has been great. Any issues I have, they usually respond right away. The software has gotten better, and any ideas I've pitched to the product team are well-received and they look at what I'm proposing and see if they can make the products even better.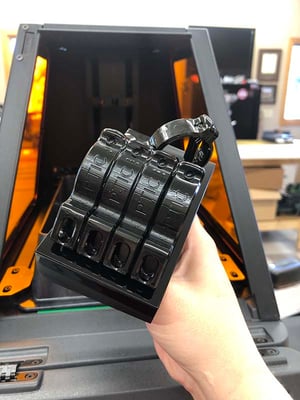 Q: Where do your ideas come from?
A: A lot of my ideas come from a place of trying to improve products that are currently on the market, and because I try to avoid outsourcing, as well. If I decide to buy from someone else, I'm usually faced with high minimum order quantities. And if the products don't sell, or if I find that customers don't like them, I'm stuck with leftovers. And I'm always thinking of ways to make something better – it's a lot of trial and error to figure out what will work best.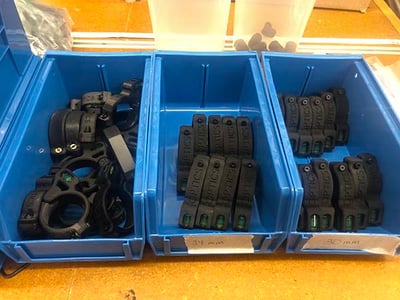 Q: Can you tell us a little about your shop's setup?
A: My shop is pretty much set up for the gun cleaning. We have a big ultrasonic tank, which is a two-part system. The front is a water-based solvent, and the back is a super fine viscosity oil, and in between each application, I blow it off with compressed air. I also mount scopes here in my shop, and I have my printing station set up, as well. Depending on the size of the part, I can typically print 4 or 5 at a time on the B9 Core 550, so I'll usually devote a day to printing and that way, I'm able to build up a bunch of volume to have on hand.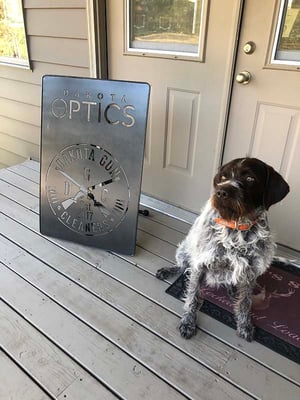 Pictured is John's coworker, Thor 😉
John has started his own successful business, and now has a passion for helping others achieve that same dream.
Q: Can you tell us about your involvement in Bunker Labs?
A: I'm a city leader for Bunker Labs, which is a national nonprofit organization with a mission to assist military veterans and spouses in entrepreneurism. We hold monthly events, and right now, we're one of the only chapters in the nation holding virtual events. Bunker Labs provides the military-connected community with tools and opportunities to start successful business ventures.