When Dan Smith, owner of Magnum Enterprises, LLC., went to the injection molding company that had been creating his plastic parts for years, he never expected that they would misplace one of his molds and have no technical drawing to recreate it. So Dan came to us. And within 24 hours, had a nearly perfect copy of his parts scanned with our B9 Scan 350 and printed on a B9 Core 550. After experiencing the opportunities of 3D printing first hand, Dan decided to purchase the B9 Scan 350 along with the B9 Core 550. He is now able to use this technology to start his 3D printing service bureau work.
Injection molding and rapid prototyping.
Magnum Enterprises, the nation's leading seller and manufacturer of rubber band guns, sells guns to thousands of locations around the country. So many locations, in fact, that they had to quit adding location pins to their distributor/dealer wall map depicting all their customers. Dan says if they put a stick pin in for each of their customers, it'd fall off the wall from the weight, and the "amount of holes would tear the map to shreds."
Dan gained interest in the rubber band gun business after seeing them at a large gun show in the late 80's in California and realizing their appeal. Then, after years of being in the Air Force Reserves and selling them on the side, the opportunity to sell them wholesale on a full-time basis fell into his lap. He operated his distribution company out of his garage in California for 6 years, then a local warehouse for another 7, outgrowing each location as he went. His family now lives nestled in the Black Hills, back in his wife's home state of South Dakota.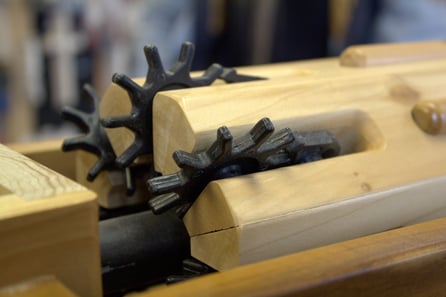 As Dan's company grew, he eventually bought out two of his major suppliers. When one of these major suppliers went out of business, Dan stepped in and took over their complete manufacturing process for his entire product line. Now, Magnum Enterprises manufactures over 100 individual styles and models of rubber band guns, swords, shields, and more in his 11,000 square feet of warehouse space. The rubber band guns are made of beautiful poplar wood with various plastic parts that create the trigger mechanism that shoots the rubber bands, along with other plastic components that go into the products.
Dan's go-to injection molding company had always provided him with the plastic trigger and cog wheel parts he needed for his guns. Dan says he never imagined that one day the company would call to say they had misplaced the mold and had no record of the technical files or drawings used to create the mold in the first place. With a select, critical portion of his products requiring these specific parts, there was no way Dan could continue production as usual.
So, Dan approached B9Creations to see if we had any way to help him and his company. Using the B9 Scan 350's reverse engineering capabilities, Eric and Derek were able to scan the piece in 5 minutes, create a working file in minutes, and 3D print it with our rapid prototyping resin for design verification – with the goal of creating an exact replica of Dan's original piece.
With this new technical drawing, Dan can easily reprint the piece, cast it, recreate the injection mold, or even change and prototype the piece to create another design.
"Before you have a toolmaker start cutting metal on a mold and drilling cavities and things like that, you want to have your part perfect. So you don't have to go back and make another mold and spend another 15k dollars."
- Dan Smith, owner of Magnum Enterprises, LLC.
Replicating the intricate details of Dan's original piece, the B9 Core 350 captured the geometries important to the original models. And because of the extremely quick turnaround time and ability to easily modify the design, Dan saved not only time, but materials as well, not to mention lots of money. By rapid prototyping with the B9 Scan and B9 Core 550, Dan and Derek, a Mechanical Design Engineer, were able to create multiple design iterations, perfecting the piece's dimensional accuracy before sending it off to be tooled for tens of thousands of dollars.
Had he not used 3D scanning and printing technology to create an identical part, Dan would have risked losing $15,000 on a tool that might not even produce the parts that would fit perfectly into his wooden guns. Plus, B9Creations' technology allows Dan or Derek to design improved tooling and add features at the push of a button – costing mere minutes and a couple cents.
"That's the benefit of a company like B9Creations – their 3D scanner has the ability to turn your part into digital information that can be utilized in their 3D printer to make prototypes and samples. And through running through a few variations of your samples, I was able to get my part to where I wanted it – to where it was perfect. And now I can go off to a tool maker and get my new mold made. So, B9Creations, hats off to you guys. You saved me." - Dan Smith, Magnum Enterprises, LLC.
Dan's issue was resolved in hours – and the cost was only pennies on the dollar – all thanks to B9Creations.
Service Bureau Expansion
Recently, Dan purchased a B9 Scan 350 and B9 Core 550 to expand his business offerings. In his new venture Dan has the capability to offer prototyping service bureau work, enhancing his business using the same technology that saved Magnum Enterprises after their mold was lost. Through Dan's new business equipment purchases he can now scan an existing part or tool and print it in-house.
Owning a B9 Scan 350 has also opened up more doors for Magnum Enterprises than Dan expected. Dan has been approached by other business owners with irreplaceable or out-of-production items, and no way to replicate them. Dan can scan the original antiques for reproduction and print out replicated pieces that last.
Come see Dan at the New York Toy Fair with us from February 16th through the 19th!