For over six decades, Black Hills Works has provided homes, employment, recreation, and social outlets for adults with disabilities. And with an ongoing mission to make a positive impact on every life they touch, the non-profit organization's Assistive Technology team has partnered with B9Creations to deliver individualized solutions to meet the diverse needs of those they support.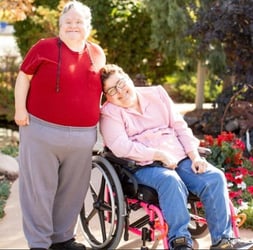 Assistive devices can completely change the lives of those in need by removing barriers to mobility, communication, socialization, and beyond – through the use of everything from mobility aids such as wheelchairs and crutches to highly-complex prosthetics. But unfortunately, these devices are often costly, as well as time-consuming to design and create. Many are also mass-produced – and therefore, fail to meet the personalized needs of the individuals using them. And this is where an opportunity existed for B9Creations to lend a helping hand with its additive manufacturing capabilities.
There are several reasons why this partnership between B9Creations and Black Hills Works made sense – one reason being that despite their day-to-day operations looking very different from one another, overlap exists between the two companies' objectives. Both organizations share the same goal of finding a better way to make what the world needs – and that's exactly what they're doing now.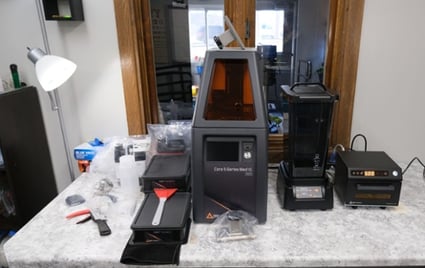 Black Hills Works is leveraging B9Creations' design services, training, and ultra-precise, medical-grade 3D printing technology to build on its Assistive Technology team's track record of innovation by developing customized, 3D printed assistive devices, designed with the purpose of promoting independence and choice for the over 600 people in their services – from 3D printed devices to facilitate the handling of eating utensils to grips for wheelchairs, waterproof call lights, tools used in the workplace, and more.
When it comes to assistive devices, one size does not fit all – every device requires some level of customization to suit a diverse range of needs. Tammy Murner, Director of Innovation & Technology at Black Hills Works, explained that before adopting 3D printing, her team used PVC and plastic to create assistive devices. "We have to make adaptive equipment fit who an individual is and what their needs are. It's not a one-size-fits-all kind of thing – so, we can't take that approach," she explained. "With this 3D printer and training, we now have the resources to individualize affordable solutions to better meet the needs of the people we support. We're so grateful to B9Creations for its generosity and partnership. Together, we are changing lives!"
This partnership is removing barriers and opening doors to opportunities that many of us take for granted. Black Hills Works' Assistive Technology team has created devices to facilitate the handling of eating utensils, affording clients a sense of independence and empowering them to enjoy a meal with their loved ones without a caretaker present – as well as 3D printed handheld device holders adapted for wheelchair trays, enabling a client of theirs with erratic motor control of his hands, resulting in difficulties holding phones and tablets, to have access to entertainment and tools that can be used in the workplace, an avenue to express himself, an opportunity to interact with others in a new way – fostering connection and enabling building and maintaining meaningful relationships – and so much more. Black Hills Works has already changed lives with this technology, and its team doesn't plan on stopping anytime soon.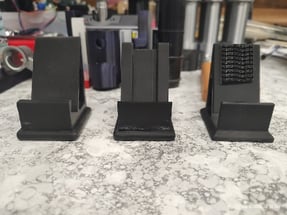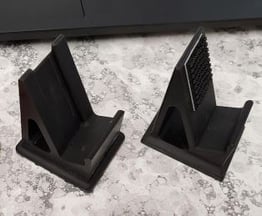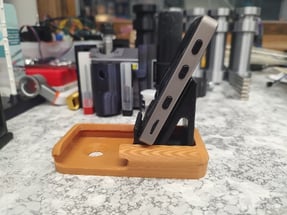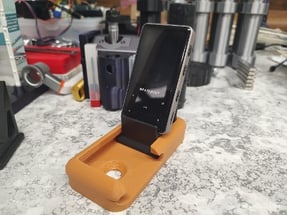 "With the changes that the B9 Core Series has made for us already, and the possibilities that have come flooding in, people are now able to do what they want to do and to live the lives they want to live. This technology is enabling the people we support to maintain meaningful jobs – they're able to be productive members of our community and give back in the same ways you or I would," said Andrea Serna, Black Hills Works Foundation President.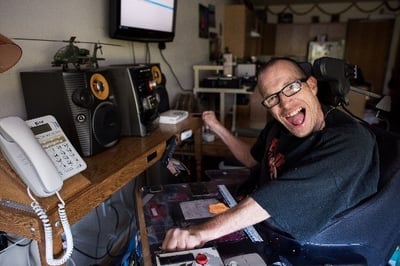 Shon Anderson, CEO of B9Creations, echoes the potential of this partnership. "Assistive devices are vital to people's lives but are often costly, time-consuming to produce, and unable to meet individualized needs. We are excited to partner with Black Hills Works to remove those barriers with accessible, fast, customizable parts in an easy-to-use, medical-grade 3D printer. It is very rewarding to see technology being used to transform people's lives and give them greater independence," said Anderson.
When Black Hills Works created its Assistive Technology Department in 2012, it consisted of one full-time employee and a dedicated team of diverse people from across the agency tasked with going through referrals and coming up with solutions. That year, the team found solutions to 168 referrals. Since then, the need for technology has grown – and in 2021 alone, the referrals increased to 926. To meet this rising need, the Black Hills Works Assistive Technology department has expanded to four full-time employees and a part-time intern.
Carrie Moser, Director of Engagement at Black Hills Works, explained that "this isn't just one small change being made to our organization – it has, and will continue to, blossom out and create this ripple effect – and I think that's the coolest part. This impacts not only the people we support but our entire community, as well."
Thank you, Black Hills Works, for allowing us to take part in your mission to change lives!