Pairing craftmanship with business savvy, powered by the B9Creator 3D printer, Jill Kenik has watched her company, Acropolis Studios, grow from a startup to success, even launching her first-ever service bureau arm this year.
Jill possessed a passion for craftsmanship early on, earning a bachelor's in Jewelry and Metalworking from Rochester Institute of Technology. She would then pair it with the business expertise needed to run a company, later earning her MBA from the University of Rhode Island. "I completed it to gain understanding of the full business implications of the product development cycle, not just designing, but financial, marketing, and sales analysis of taking the product through its life cycle."
After college, she took a job with Swank, Inc., designing men's jewelry and watches, a training ground for creating "quality product for mass manufacturing." Eventually the entrepreneurial bug would bite and she would open her own business, Acropolis Studios, doing model making and product design work.
"I bring an eye for detail to everything I work on, from architectural models to high-end trophies and awards, customer and precious jewelry, hollowware pieces, and my favorite products, historical reproductions and restorations. Studying the techniques used by artisans hundreds of years ago, but utilizing technologies such as 3D scanning, 3D printing, and CNC milling to product replacement parts for light fixtures, door and window hardware, and architectural components is very interesting work. The marriage of traditional craftsmanship with technologies allows me to product high-quality parts."
Why did you choose the B9Creator or what problems were you looking to solve? What make it stand out from the competition?
I was an early adopter of CAD and CNC milling. But I'd always held back on 3D printing - the quality just wasn't good enough for the detail level my work is known for. I was running a large format ZCorp printer in my shop for large pieces, but it was a long way off form matching the detail quality I could achieve with my CNC mills. Of course, the problem was trying to jig and mill really organic, 3D forms, too.

I committed to purchasing a B9Creator about 24 hours after seeing it for the first time. The B9Creator gave me the detail quality that I needed at small scale without the need for hours of milling and jigging to make a fully 3D object, and the print cost was so affordable! I'm use the B9 not just for finished models, but I will often test print a piece so I can check a design direction, which are very useful in the development of complex items.

So print cost, quality of output, machine reliability and speed all came together to make the B9 the right tool for the studio.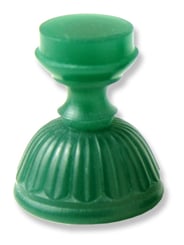 You've now purchased a second B9Creator. Why did you want more than one?
It's become a vital component in my workflow. I am not interested in replacing the Creator with a system that requires expensive cartridges of resin, or with a machine that isn't simple to fix. I like having machines that I can access, repair and return to service quickly. The B9C is a good solid versatile machine. I need the flexibility of resolution and scale that the B9C offers. With my broad range of model making markets, I was constantly changing from 30u to 50u to 70u prints. It's great to have 1 machines fine-tuned now to 30u, and another that I can less critically change from 50u to 70u. It's great to have another high-quality, low-cost 3D printer in the shop. Technology gives me an opportunity to put out a lot of work in a day. In fact, in order to serve the demands of my customers for quick turnaround on large projects, I'm now beginning to market the 3D printing side of my business as a service bureau.
What's your relationship been like with B9Creations?
My relationship with B9Creations has been terrific. They have a good support department. Most interesting as a company is their community building approach among their users. Their tech forum is one of the best I've experienced, and actually served as a great example for some of the community building approaches I'm taking while I serve as President of the Association of Professional Model Makers. There is truly a professional learning community among B9Creations users.

For more information on Jill's model making and design company, visit Acropolis Studios. For more information on her service bureau, visit Acropolis 3D Printing.
Note: B9Creations no longer manufactures our first-generation B9Creator 3D printers, as we've released a line of upgraded machines, called the B9 Core Series. Learn more here.