Brady Neiles, who works for South Dakota Game, Fish & Parks, devotes himself to the conservation of wildlife, fisheries, and state parks of the Western Great Plains – currently, he is dedicated to safely tracking wildlife. The current method of tracking juvenile animals involves surgically implanting a radio transmitter into their bodies – which can lead to injury, migration to other areas of the body, and even fatalities in some instances. When it was decided that Game, Fish & Parks wanted to use implants, he needed to come up with a solution – Neiles aimed to track wildlife populations without the harms associated with implantation.
"What we're looking for as the end goal is a population growth rate for bobcats in the Black Hills, and a survival estimate. So, to get a specific growth rate, which helps us with our harvest, models, and population viability – we need the bobcat kitten survival rate. And, that's just never been published for bobcats before."
The Big Question: Why 3D Printing?
For Neiles, the challenge at hand was finding a collar that could expand as an animal grows. After searching the internet and racking his brain for a solution, he discovered that 3D printing was the simplest way of obtaining an expandable collar.
"It seems like all of the technology that we use in the collar itself is state of the art – you know, GPS and such. But, it seems as if the attachments are stuck in the 70's. We use waterproof fabrics and different bolt attachments. Currently, the only solution for kittens and growing animals are implants, but those have a small range for what you are able to hear, like the actual signal that is emitted. Plus, the transmitter will always be with the animal."
It was time to get to work! Neiles first used our high-speed prototyping resin to create his collar design. Then, after approval, his project was funded grant money which allowed him to roll it out into phase number two.

Neiles' second-phase design in the Rugged - Nylon 6 material next to his initial prototype, constructed using our Gray Resin Material
So, What's the Solution?
The invasive process of implantation in bobcats can lead to a number of adverse health effects. Neiles explains, "you only have less than a quarter-inch incision to fit the implant in – there have been reports of implants getting stuck in the pelvic canal, either causing serious constipation, bleeding to death, or blocking the birthing canal." With the help of our 3D Printing technology, Neiles can now create a harmless and successful alternative to implanted trackers – expandable collars. With high impact resistance, flexibility, and low moisture absorption, our new Rugged - Nylon 6 material is perfect for the job!
What's Next?
Neiles has now landed federal funding, with a match from the State of South Dakota, for his pioneering work at Game, Fish & Parks. However, this trailblazer even caught the eye of an institution far outside the Midwest. West Virginia University also agreed to cover tuition and a living stipend for a graduate student to help Neiles roll-out the second phase of his work.
The year-round study spans five counties in the Western half of South Dakota. But, the potential stretches far beyond.
We asked Neiles about the impact his expandable collars would make – his response:
"Once everything is tuned up, the collars could make a huge difference – we collar a lot of juveniles in wildlife, so down the road, I could see this being used on a lot of other species as well. We collar 250 fawns every single year throughout the state of South Dakota. That would be a huge opportunity, too."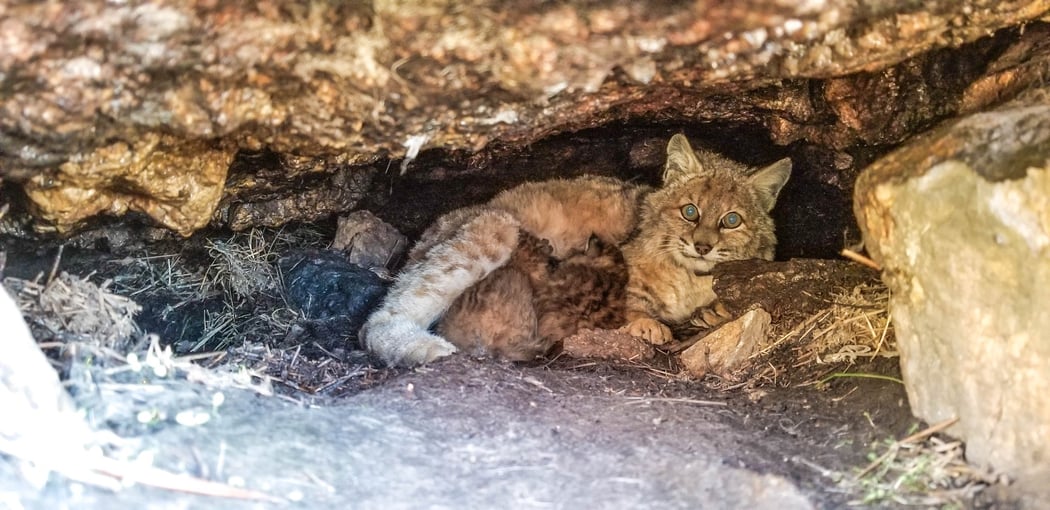 Photo taken by Brady Neiles – Neiles spotted this bobcat mother, while working to finalize methods of locating den sites of collared adult female bobcats.