B9Creations and Mines Association of Rocketeers (MARS) partnered to design and 3D print rocket components for the Spaceport America Cup, the world's largest intercollegiate rocket engineering competition. MARS—which is a part of South Dakota Mines CAMP, a competitive, student-centered engineering program—placed in the top fourth overall against the likes of Princeton, Cornell, Columbia, Texas A&M, and over 150 other prestigious universities worldwide.
The 2023 Spaceport America Cup took place in southern New Mexico, bringing together teams from 24 countries across six continents to compete to design and launch rockets in various categories based on rocket fuel type and altitude.
B9Creations' technology and ESD – Rigid resin, a lightweight, stiff, and ESD-safe 3D printing material, were used to manufacture the avionics sled of the rocket, which serves as the housing for critical electronics during flight. The avionics sled needed to be structurally integrated into the rocket and capable of transitioning from compression to tension during recovery events to ensure safe deployment.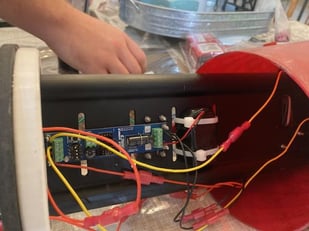 Avionics sled created using B9Creations technology
3D printing offered the most suitable technique for manufacturing the rocket's avionics sled due to the design requirements and aspect ratio of the part, which would have made it difficult to manufacture conventionally or would have resulted in a part that was too bulky or not stiff enough to be used.
MARS member Payton Winsor said, "3D printing was the best manufacturing technique for this project. Being able to use specialty materials and processes allowed us to design an integrated structural member into our avionics bay that was lightweight and stiff—with the additional benefit of being ESD-safe, which increased our rocket's overall safety. The New Mexico desert is a dry area and the last thing we needed was the possibility of shorting the computers or an ejection charge. These design considerations afforded our team more points for our overall design and technical report score."
Despite facing a failure to eject and a ballistic re-entry at the competition, the team managed to come within 500 feet of their 10,000-foot target altitude, placing in the top third of competitors in their division and 32nd out of 158 teams overall.
3D printing played a crucial role in enhancing the team's performance at the Spaceport America Cup and the team's experience with B9Creations has fueled their motivation to continue exploring innovative applications of 3D printing in the aerospace industry.
"Our experience with B9Creations was great. The company was willing to work with us from the beginning when we approached them about this project," said Winsor. "I'm sure the next team would love the opportunity to work with B9Creations as well and continue to innovate the use of 3D printing in the aerospace industry."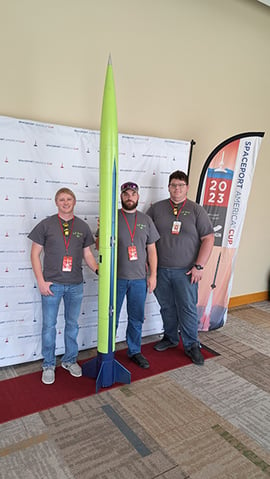 A few members of MARS with their rocket at the 2023 Spaceport America Cup
The successful collaboration between B9Creations and MARS has ignited the team's passion for further innovation and exploration in the aerospace engineering realm through cutting-edge 3D printing technologies.