The best part about B9Creations technology is the incredible things you do with it. And that's why for our year in review, we want to focus on you. From introducing new, safer methods of wildlife tracking to 3D printing on the set of a television series, you made it happen in 2019 – and we're honored we got to be with you every step of the way.
You Introduced Never-Before-Seen Tools to Your Industry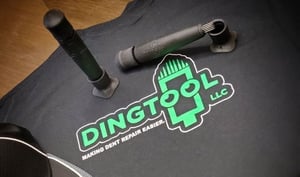 This year, Duane Langenfeld introduced an integral tool to the paintless dent repair industry. Ding Tool, Duane's company and end-use tool of the same name, increases efficiencies up to 30%, turning over jobs more quickly, growing revenue, and adding profit to the bottom line. And without a faster alternative on the market, Ding Tool is set to capture worldwide demand - including a big debut at the largest automotive show in the United States, SEMA.
The B9 Core Series and Rugged - Nylon 6 resin was the duo that brought this industry-altering tool to life. With high impact resistance, Rugged - Nylon 6 is tough enough to stand up to repeated hammering, taking out dents without leaving scars on the paint or metal – key to successful paintless dent repair.
"I needed the ability to rapidly prototype each iteration as I went along, and the B9 Core Series 550 gave me the ability to do that. Literally I can print something off, go back to work, then as the next iteration comes along, I can cycle it in at that time. Outsourcing triples or can even quadruple my wait time for each design iteration. That's what made this printer purchase to bring production in-house so valuable."
You Transformed Wildlife Tracking

Brady Neiles, who works for South Dakota Game, Fish & Parks, devotes himself to the conservation of wildlife, fisheries, and state parks of the Western Great Plains. His dedication to the area's wildlife influenced a pursuit of safer tracking. The method of tracking juvenile animals involves surgically implanting a radio transmitter into their bodies – which can lead to injury, migration to other areas of the body, and even fatalities in some instances.
"You only have less than a quarter-inch incision to fit the implant in – there have been reports of implants getting stuck in the pelvic canal, either causing serious constipation, bleeding to death, or blocking the birthing canal."
For Neiles, the challenge at hand was finding a collar that could expand as an animal grows. After searching the internet and racking his brain for a solution, he discovered that 3D printing was the simplest way of obtaining an expandable collar. Using the B9 Core Series, the initial prototype was created in our Gray Resin, and the final design was brought to life using the Rugged - Nylon 6 Resin - and the story went on to garner national attention, making headlines in USA Today and more.
Your Work was Broadcast for the World to see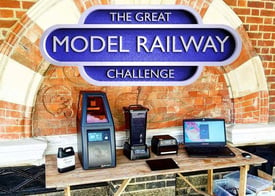 Modelu is a business that specializes in high-resolution 3D scanned and 3D printed figurines and components for model makers. Using the B9 Core Series, Alan Butler, owner of Modelu, featured on-set 3D scanning and 3D printing for a brand-new television series called The Great Model Railway Challenge.
This program features some of the UK's most talented model railway enthusiasts competing to create miniature masterpieces. Over 1 million viewers tuned in to the season finale and got to watch the B9 Core Series solution in action. The unmatched speed of B9Creations technology made for a perfect fit on set, and in the hands of contestants competing under a time constraint.
"With the speed & reliability of the Core Series, I can take on live printing opportunities like television shows. Plus I've increased my production 5 times, with wholesale orders of 2,000 parts or more at a time."
You Delivered Products Unlike any Other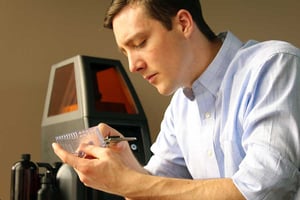 Your business, your research, your products hold the power to transform industries. To change the future of medicine or the nature of manufacturing, to pioneer groundbreaking discoveries and deliver products unlike any other into consumers' hands.
3D printing helps you get there faster and more cheaply than ever before. But, only if you have the right materials for the job.
B9Captivate, our material development software that helps you optimize for the chemistry of your custom materials and the geometry of your part – so you can develop settings perfectly engineered for your application.
This year, B9Captivate empowered industries ranging from aerospace to chemical and beyond, enabling customers to develop resins fine-tuned for their unique applications.
"B9Captivate really makes the B9 Core 530 invaluable to us. Due to the level of intricate details involved in our prints, there is no available off-the-shelf resin at present that can produce the parts needed for our business. This software has now closed that gap."
You Helped Meet
Healthcare Needs Around the Globe

2019 saw the launch of our healthcare division, medical upgrade to the B9 Core Series, and the launch of our suite of biocompatible materials – enabling a host of applications with the power to transform lives. From external chargers powering pacemakers to custom-made hearing aids and a range of medical devices, customers like Medtronic, B. Braun Medical, and more reduced prototyping costs, increased speed to market, delivered production parts, and made healthcare solutions more accessible than ever before.
"We were blown away and just kept staring at the parts, saying this is incredible & how is this even possible?! They truly looked & felt like final production parts, with the quality of injection-molded parts, but tighter tolerances. Your 3D printed tolerances are less than +/- 0.0008" (tighter than tight injection molding tolerances of +/- 0.002"). After seeing you can produce FUNCTIONAL medical grade parts, we already shared the prototypes with a neighboring medical device company, and they are now looking at your spec sheets and applications for prototypes."
As the head of a $1M 3D printing lab shared, "I just did 9-10 jobs in 2 days. And I printed the sample print you sent me myself and it turned out even better! HD Slate is a very unique material - great detail, rigid and hard, but not too brittle for my applications. This printer is going to be a life-changer."
You Took Control of Post-Processing
Imagine your piece has just finished printing. But now, you're facing painful post-processing that will consume at least double the amount of time used to carry out the printing process.
This is a scenario we became all too familiar with hearing from our customers – so, we decided to address this pain point.
"We listened to our customers and they told us they wanted a way to eliminate the manual part of the cleaning process. Something where they didn't have to put on gloves and deal with the time and hassle of cleaning off their parts. It's really about workflow and the value of your time."
-Michael Joyce | Founder and CTO of B9Creations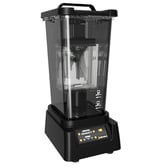 Post-processing has stolen valuable time for far too long.
The B9Clean unit, a tool that automates post-processing with thorough, no-mess, glove-free cleaning, has given customers around the globe the power to reclaim valuable time and revolutionize their workflows.
The B9Clean offers customizable cleaning cycles that give customers flexibility in their workflow – all while using 75 percent less cleaning solution than other units on the market. With three speed options and a one- to ten-minute cleaning cycle, the B9Clean also offers two different fill levels
"For me, it's all about workflow. When I began looking seriously at how much time I was wasting playing around with 3D printing, it made me realize I had already lost what I spent on the printer and wash unit, hands down. For example – I just took on two new contracts, both with $5,000 deposits, because of the amount of time I've freed up with B9Creations products. No joke, no exaggeration, just more selling opportunities available to me now."

-Kevin Fertenbaugh | Owner of Kevs Jewelry Design
Made possible by your support, the B9Clean was voted as one of five finalists worldwide for the 2019 TCT Post-Processing Award. The TCT Awards showcase the most influential 3D technology innovations around the globe, with finalists selected by an expert advisory board.
You Helped us Grow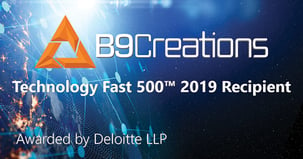 Because of the support we receive from customers like you, B9Creations was recognized as one of the fastest growing companies in North America! This year, we were awarded a spot on the Deloitte Technology Fast 500 list.
The Deloitte Technology Fast 500 Awards recognize the fastest-growing technology companies in regions across the globe. This has been one of the most highly sought-after rankings for technology, media, life sciences, and energy tech companies for 25 years.
B9Creations grew 277% during this period. And, B9Creations chief executive officer, Shon Anderson, credits the company's rapid growth to its track record as an innovation engine driven by customer feedback.
"In an industry as rapidly changing as 3D printing, our competitive advantage is out-listening – taking customer feedback and transforming it into technology that serves as an engine of growth in their business."
-Shon Anderson | B9Creations CEO
Finally, Let's Take a Look at Some of the Stunning Jewelry You've Created This Year

You Transform Industries, Pioneer Discoveries, and Deliver Products Unlike Any Other
We make the technology that powers your businesses and watch as you change the world. We can't wait to see what you do in 2020. Thanks for another incredible year!