The best part about B9Creations technology is the incredible things you do with it. And that's why for our year in review, we want to focus on you. From building an off-road vehicle with 3D printed parts to creating assistive devices designed to give over 600 individuals with disabilities greater independence, you made it happen in 2021 – and we're honored we got to be with you every step of the way.
You Built an Award-Winning Off-Road Vehicle with 3D Printed Parts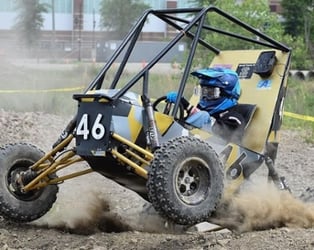 This year, we had the opportunity to partner with South Dakota Mines' Baja Society of Automotive Engineers (SAE) team to 3D print parts for an off-road vehicle they built to take part in an annual competition – at which the team placed 10th worldwide.
The Baja SAE team is comprised of Mines students who design, manufacture, test, and race an off-road vehicle. Each year, the team competes against universities from around the world in multiple events at the Baja SAE Competition – including a tech inspection and brake check, a maneuverability hill climb event, and a four-hour endurance race.
"We're proud to partner with Mines' Baja SAE team on this project, and on future projects as well. It's exciting to see our technology being used in a new way, and we can't wait to see how the team leverages it to design and build their competition vehicles for years to come," said B9Creations CEO Shon Anderson.
You Gave Over 600 Individuals with Disabilities Greater Independence
B9Creations and Black Hills Works launched a partnership this year to develop customized, 3D printed assistive devices for the over 600 people supported through Black Hills Works, designed to give individuals with disabilities greater independence.
For over six decades, Black Hills Works has provided homes, employment, recreation, and social outlets for adults with disabilities. Now, we're partnering with the organization's Assistive Technology team to deliver individualized solutions with industry-leading technology to meet the diverse needs of those they support – from 3D printing devices to facilitate the handling of eating utensils to grips for wheelchairs, waterproof call lights, tools used in the workplace, and more.
"The 3D printer will help us save money by making something rather than buying it," shared Tammy Murner, Director of Innovation & Technology. "We will have the resources to individualize solutions to better meet the needs of the people we support."
Shon Anderson, CEO of B9Creations, echoes the potential of this partnership. "Assistive devices are vital to people's lives, but are often costly, time-consuming to produce, and unable to meet individualized needs. We are excited to partner with Black Hills Works to remove those barriers with accessible, fast, customizable parts in an easy-to-use, medical-grade 3D printer. It is very rewarding to see technology being used to transform people's lives and give them greater independence," said Anderson.
You Disrupted Traditional Manufacturing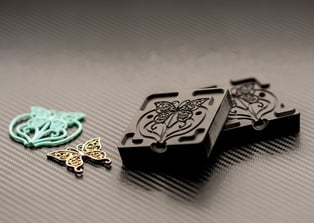 By replacing rubber molds with 3D printed silicone molds for wax injection, you disrupted traditional manufacturing this year – you cut costs, saved time, and grew revenue by shaking things up.
"This is a game-changer for the jewelry industry! I've had enormous success printing molds in Resilient – Silicone, and moving from traditional methods to 3D printing will save me thousands of dollars every year. And the time savings associated with this are huge. I can do the CAD work in 45 minutes to an hour, put it on the printer, and I'm injecting molds within three to four hours. Before, with rubber molds, I'd start in the morning and couldn't even get the master in the oven by the end of the day," said Patrick Dobbs, Owner and Master Jeweler at Hammerman Forge.
"3D printing my molds cuts at least three steps out of my original production process, and no master! I've printed at least 70 molds already, and now I'm up to 15 a day," said Oscar Valencia, owner of Master Casting & CAD.
You Helped Us Grow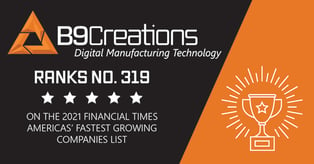 You've helped us grow this year and for that, we thank you! Because of the support we receive from customers like you, B9Creations was recognized as one of the fastest-growing companies in North and South America. B9Creations joins notable honorees Netflix, Tesla, Facebook, Uber, and several other well-known names.
The FT Americas' Fastest-Growing Companies 2021 list is comprised of the enterprises that contributed most heavily to economic growth. Out of the millions of active companies in North and South America, just 500 were featured on the list.
B9Creations CEO, Shon Anderson, credits the company's rapid growth to a competitive advantage of out-listening – taking customer feedback and transforming it into technology that acts as an engine of growth in their businesses. "At B9Creations, we're always listening to and leveraging feedback to drive technology developments – in our off-the-shelf additive manufacturing products as well as the customized solutions and services we create for customers looking for next-level performance at scale. We're honored to be recognized as one of the fastest-growing companies in The Americas, and we're honored to have the employees, customers, and partners who've made this growth possible," he said.
You Transform Industries, Pioneer Discoveries, and Deliver Products Unlike Any Other
We make the technology that powers your businesses and watch as you change the world. We can't wait to see what you do in 2022. Thanks for another incredible year!