The best part about B9Creations technology is the incredible things you do with it. And that's why for our year in review, we want to focus on you. From printing the unprintable to setting new standards in your industry, you made it happen in 2020 – and we're honored we got to be with you every step of the way.
You Printed the Unprintable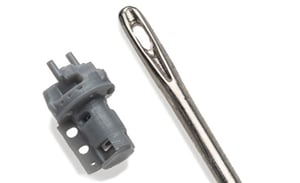 With the medical industry trending toward miniaturization, Kevin Herrera, Senior Engineer in Advanced R&D at Johnson & Johnson, was sent on a mission to test the capabilities of different 3D printers on the market.
With a lineup of machines, Kevin got to work – but successfully creating this tiny 2 x 2 x 4 mm part, representative of a complex component in a catheter, came with its own unique set of challenges. Every 3D printer Kevin tried to use to create this seemingly unprintable design failed to successfully tackle the job – until he tried the B9 Core Series. Now, he's getting parts like this one in a matter of minutes.
"This part is representative of a complex component in a catheter. It's only 2 x 2 x 4 mm. I tried to 3D print this part in a bunch of different printers, but it failed every time. So, I sent it to B9Creations expecting the same, but it came out perfectly – and they sent it to me the next day! I can now get this type of part in minutes."
You Streamlined Your Workflow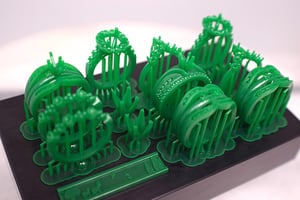 Mitch Roush graduated from Gem City College in Jewelry-Diamond Setting and Design in 2012, and launched into a successful career as a jeweler, bringing quality, custom pieces to life at The Jeweler's Bench in Newton, Iowa.
In 1981, Mitch's father, Jeff Roush, started The Jeweler's Bench as a wholesale trade shop. Now, the company has been taken a different direction – focusing on custom jewelry work and repair. Jeff has worked as a jeweler for almost 40 years, and both he and Mitch possess a passion for educating others. Customers at The Jeweler's Bench are taken on a journey through the creation process – from concept sketches to their finished piece.
They've been leveraging the B9 Core 550 to create their beautiful, unique pieces for over a year now, and Mitch loves the machine's reliability, ease of use, and speed. Once they upgraded to B9Create 2.0 with FAST™, Mitch reached out to give us his feedback. Here's what he had to say about the new technology:
"B9Create 2.0 with FAST™ technology is a no-brainer! With fast slicing, support mirroring, and auto-supporting, this will easily save me an hour of production time every week – that's huge for me! Smoother surface finish and better detail – the castings are great too! But the cherry on top is knowing I was able to increase print quality without having to buy a new printer."
You set new Standards in Your Industry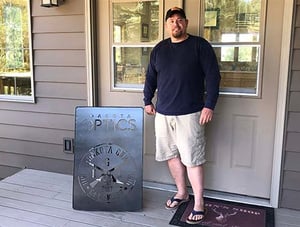 This year, B9Creations had the chance to sit down with John Schneider, owner and operator of Dakota Optics, to learn more about how he's leveraging B9Creations' additive manufacturing solutions to run his business and set a new standard for quality.
John founded Dakota Optics in 2017 with the goal of providing high-quality Athlon Optics to hunting and shooting enthusiasts. The company has expanded to promote additional American-made gun cleaning products and other firearm products, working with veteran owned/run companies whenever possible. John is a 24-year United States Army Veteran and is committed to providing the highest quality of services to military service members and their families.
We asked John about the problems 3D printing has solved for his business, as well as where his ideas come from – and here's what he said:
"

I use 3D printing with the B9 Core Series to create everything I sell in my Dakota Optics line. The majority of my ideas come from a place of trying to improve products that are currently on the market.

3D printing has also given me better market base – a lot of competitors are using machine aluminum for some of the parts, and there is a lot of waste. Whereas with 3D printing, I can sell my accessories for about half the price and still make a good profit – or because of the quality and overall look of it, I could probably sell things for th

e same price as competitors.

"
You Went Virtual with us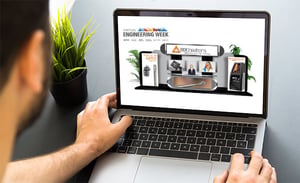 Navigating tradeshows and events during the pandemic has come with its own unique set of challenges – but perhaps with a blessing in disguise, as well. This year, we've been able to connect with you from anywhere in the world.
We want to thank you for going virtual with us – from a conversation with the world's largest medical device brands and a discussion on how to leverage additive manufacturing to run your business with a disrupted supply chain or remote workforce to joining the global design, engineering, and manufacturing communities for five days of education, panel discussions, product demos and networking – we've come together in a new way this year.
You Helped us Grow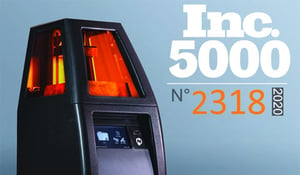 Because of the support we receive from customers like you, B9Creations was recognized as one of the fastest-growing private companies in America! This year, we were awarded a spot on Inc. Magazine's Inc. 5000 list.
B9Creations ranked in the top half of all companies on the annual list, considered the most prestigious ranking of the nation's fastest-growing private companies. B9Creations joins Inc. 5000 alumni like Intuit, Zappos, Under Armour, Microsoft, Patagonia, and many other well-known names who gained their first national exposure as honorees on the list.
B9Creations experienced revenue growth of 180.93% during this period and B9Creations chief executive officer, Shon Anderson, credits the company's rapid growth to a competitive advantage of out-listening – taking customer feedback and transforming it into technology that acts as an engine of growth in their businesses.
"At B9Creations, we're always listening to and leveraging feedback to drive technology developments – in our off-the-shelf additive manufacturing products as well as the customized solutions and services we create for customers looking for next-level performance at scale. We're honored to be recognized as one of America's fastest-growing private companies, and we're honored to have the employees, customers and partners who've made this growth possible."
-Shon Anderson | B9Creations CEO
And Finally, you Helped us Help Those who Need it Most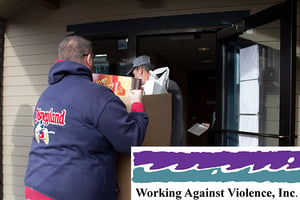 COVID has impacted all of us this year, especially our vulnerable populations. In November, B9Creations did a drive to collect items needed for WAVI, an organization that provides a safe environment for survivors of domestic violence.
This holiday season, you partnered with us to do more. For every B9 Core Series 3D printer, and every year-end promo purchase, we donated a case of food to WAVI. Thank you for being a valued customer, and for partnering with us to lend a helping hand this holiday season!
You Transform Industries, Pioneer Discoveries, and Deliver Products Unlike any Other
We make the technology that powers your businesses and watch as you change the world. We can't wait to see what you do in 2021. Thanks for another incredible year!