Our new FAST™ technology, powered by B9Create 2.0 Pioneer Edition, will optimize your 3D print processes like never before – with fewer supports, better surface finish, and painless post-processing. Sharpen the effective resolution of your Core 530 printer to <15μm, and your Core 550, Core Med 500, and all Core 5 Series XL and Med XL printers to <25μm.
Trevor Vipond designs and creates fine jewelry for Vancouver's award-winning "Best Custom Jeweler," Cavalier. And while Trevor's work at Cavalier is extraordinary, he also loves to create pieces outside of his fine jewelry work – stopping nothing short of unique, artistic, unexpected, and out-of-the-box. What Trevor first considered a creative outlet, eventually became a full-fledged business, Hewn, and the key to a career showcasing his unique flair. Here's some feedback he provided on FAST™: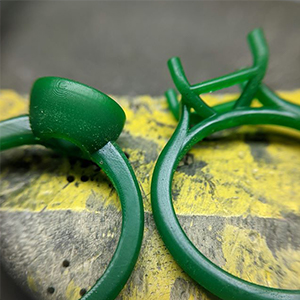 "Immediately noticed a difference. Gone are the old, larger plateaus. Honestly, with no magnification the steps are not there or barely visible to the naked eye – and with a 10x loupe, rounded surfaces are smooth now."-Trevor Vipond | Hewn
Robert Howle has been in the jewelry business for nearly 40 years. In 1983, he opened Howle & Howle Goldsmiths – a company that now offers services including jewelry repair, design and fabrication, CAD services, and more! With FAST™ technology, he's seeing a whole new level of quality in his prints!
"I love the new FAST™ technology. The smoothing is insane! Cleanup is going to be a game changer for a lot of people – you don't have all the stepping lines to deal with. I see a vast improvement in the quality of my prints."-Robert Howle | Howle & Howle Goldsmiths
Ryan Mullen is a jeweler at Jamming Gems, a USA-based company that has been supplying the gemstone and jewelry trade since 1991. Today, the company serves as an online retailer, offering products and services that include casting, gemstone cutting, jewelry manufacturing, gemstone setting, and ring sizing – here's what he had to say about the new technology!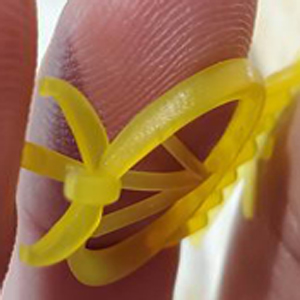 "I do bulk manufacturing and print a lot. I'm very impressed by the new FAST™ prints and their smoothness."-Ryan Mullen | Jamming Gems
Powered by B9Create 2.0 Pioneer Edition
Backed by patent-pending technology that delivers pinpoint accuracy and even better surface finish, this software sets a new standard in state-of-the-art. Leverage our Workflow Mode for seamless layout and supporting, or drop into Design Mode to adjust a breadth of parameters to fine-tune results.
Special Features:
Advanced supports and foundations, including mirroring supports and reinforcement bars
Auto-support templates
Slices in minutes
Highlighted unsupported area indicator
Expanded import file format capabilities
Robust print analytics and material print usage estimates
Sectioning tool
Build your own part library
Kevin Fertenbaugh, owner of Kevs Jewelry Designs, has been serving the jewelry industry for over 35 years. He specializes in custom jewelry – putting pieces unlike any other into the hands of his customers. Here's what he said about FAST™ technology, driven by our new software, B9Create 2.0 Pioneer Edition: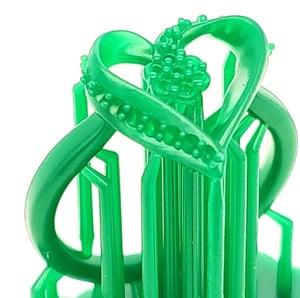 "It's definitely smoother! I ran several test prints and have shared the results with my jeweler friends. They want the software now!"-Kevin Fertenbaugh | Kevs Jewelry Designs
---
Upgrade your equipment to as state-of-the-art as when you first hit print.