One of the first steps you can take toward growing your jewelry business is to bring your production in house, offering cost and time savings, improved security for designs, and better customer service. With the growing demand for jewelry customization, in-house production with 3D printing can help your business get ahead by meeting market demand.
Cost and Time of Outsourcing
Using traditional methods of production, a custom jewelry piece would require a painstaking process to produce. Hand carving wax, designing a mold, or even outsourcing to a third-party company have relatively high and inefficient labor costs.
However, while there is quite a price range on 3D printers, ranging anywhere from a few thousand to over a hundred thousand dollars, with B9Creation's Core Series at the more cost-effective end of the spectrum, the cost benefits of purchasing a 3D printing quickly outweigh the up-front cost.
"The B9 Core Series has added a 30% additional profit margin to everything I make because I no longer have to pay anyone to produce my products. Having a 3D printer is like paying a fantastic employee a one-time salary and never paying them again."


- Frank Kapplow, CEO Delmas Diamonds & Jewelers.
Kapplow reported that his printer was paid for in a single day, with a $15,000 job completed in 24 hours, from design to print to cast. And he keeps seeing dividends with his reduced cost of production by using the B9 Core Series 3D printers.
Another way this can benefit you is by time savings. When you analyze the more traditional methods of jewelry making, one thing that immediately stands out is the time it takes to bring a project to completion.
Oftentimes, the tedious process of hand carving the molds or even using a mill can wear down on the productivity of the company.
"I was always 3 days behind, and I was milling all day every day. Plus the mill wouldn't always be able to produce the detail I needed."


- Mike Baumann, Neugebauer's Fine Jewelry
After all, considering that you can print a ring model for about $0.44 in 15 minutes, the time and cost savings become astronomical.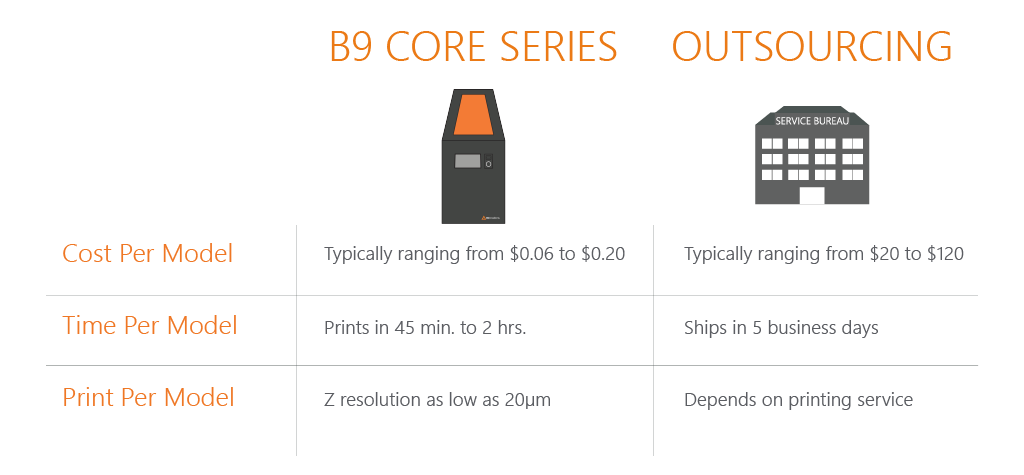 Protect Your Designs
Nearly every jeweler who has outsourced their designs knows the concern regarding intellectual property. With no real protection in place, business owners are taking a significant risk in sending their designs or their customer's designs to other companies for printing. 3D printing your designs in house offers a safeguard that their designs - and livelihood - will be protected.
Trevor Vipond's personal business Hewn has become a way to exhibit his creativity in a way that's new and different from the elegant fine jewelry work and gorgeous stone cutting he does at his day job. Because he is able to protect and produce his pieces in a fashion that appeals to a unique, targeted market, the B9 Core Series enabled him to pay off his machine in 2 months and double the size of his business in 6 months.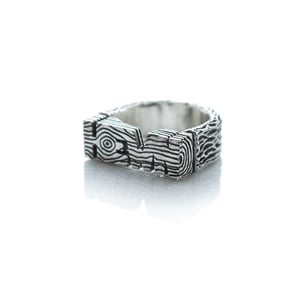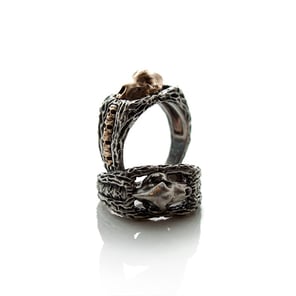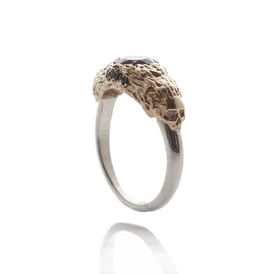 Deliver Better Customer Service
We mentioned before that you can print a ring model in less than 15 minutes, allowing the customer to choose a ring design, and verify the design promptly.
With the additional protection, customization options, cost savings, and time reduction, customers can be assured that their time and investment is well placed. As a result, this allows you to provide a custom jewelry model on the same day, helping to create a meaningful experience for both the seller and the buyer.
Overall, bringing your production in house provides some essential benefits that can help provide your customers with the great experience they need, all while saving time and money.
---
Check out our Ultimate Guide to 3D Printing for Jewelry Businesses. In this guide you'll learn how 3D printing can help you overcome the biggest challenges you're facing, what to look for in a 3D printer, and when's the right time to buy - while helping you grow your business, serve customers faster, find the best ways to bring production in-house, and lower your operating costs.