Additive manufacturing solutions that power your business and change our world.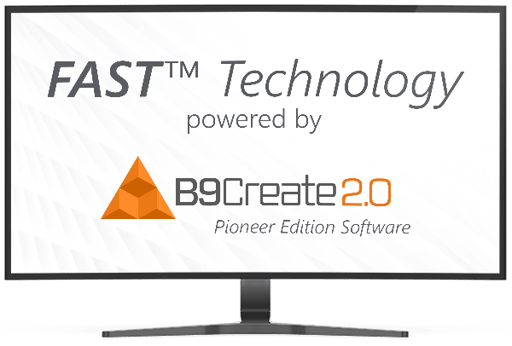 FAST™ Technology
Our FAST™ technology powered by B9Create 2.0 Pioneer Edition will optimize your 3D print processes like never before – with fewer supports, better surface finish, pinpoint accuracy, and painless post processing.
Backed by patent-pending technology that delivers pinpoint accuracy and even better surface finish, this software sets a new standard in state-of-the-art.
Sharpen the effective resolution of your Core 530 printer to <15μm, and your Core 550, Core Med 500, and all Core 5 Series XL and Med XL printers to <25μm.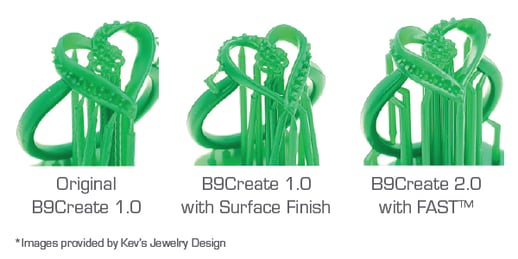 Powered by B9Create 2.0 Pioneer Edition
Leverage our Workflow Mode that intelligently lays out, orients, and auto-supports your parts in four steps or drop into Design Mode to adjust a breadth of parameters to fine-tune results.
Special Features:
Equipped with FAST™ technology

Advanced supports and foundations, including mirroring supports and reinforcement bars
Auto support templates
Slices in minutes
Highlighted unsupported area indicator
Expanded import file format capabilities
Robust print analytics and material print usage estimates
Sectioning tool
Build your own part library
Need a demo or a download?
If you're interested in a software demo or would like more information about this technology, please fill out the form.
If you already purchased this technology package, you will receive your activation email with your downloadable software and license key via your order email within 2 business days. If you need to re-download the software, please fill out the form and we will send you a link.